Rhode Island Rentals by Region
Rhode Island Information by Region
Rhode Island Information
Rhode Island is a smallest state of U.S. It is one of the six New England states in the northeastern US. It occupies only 0.03% of the total US area. Rhode Island is size wise 50th rank among the 50 states of US. Rhode Island nickname is The Ocean State and also Little Rhody. Rhode Island State capital city is Providence. Rhode Island total area is 1,545 sq mi. Rhode Island is bordered on the north and east by Massachusetts, west by Connecticut and south by Atlantic Ocean. Rhode Island total boundary length is 257 km. The Rhode Island state total forest land is 159,000 hectares. Forest land is occupying the 60% of the Rhode Island state's land area. Rhode Island State official language is English. Rhode Island and Providence Plantation derives from the merger of two colonies. Rhode Island State?s climate is humid continental climate. Rhode Island had rainy summers and chilly winters. The Rhode Island state annual temperature is 50°F. The Rhode Island state total population is 1,053,209 in 2009 estimation. In population wise the Rhode Island state rank is 43rd among United States. Agriculture is the basis of Rhode Island economy. Rhode Island main agricultural commodity is nursery and greenhouse products. The Industrial Revolution began early in Rhode Island. Rhode Island?s major industries are lumber and shipbuilding. In 1789 the industrial revolution began and moved large number of workers into the cities thereby a permanently landless and therefore vote less class developed. In 20th century, industries were developed and grown through out the Rhode Island state. Rhode Island has one of the world's largest toy manufacturers.
Rhode Island Recreation, Culture and Attractions
The large number of beaches of Rhode Island is in Washington County. Particularly Newport Harbor holds nay pleasure boats. Harbor State capital city offers a rich culture and architectural heritage. The nautical nature of Rhode Island's geography pervades its culture. Rhode Island?s state parks and recreational areas are covered in 8,063 acres among the Rhode Island state total area. Rhode Island has many attractions. Rhode Island is a year round destination with wonderful hotels, resorts and bed and breakfast inns and offers activities for the whole family to enjoy. Rhode Island is home to the roadside attraction Nibbles Woodaway and the Big Blue Bug. It is the world's largest termite. Rhode Island is home to International Tennis Hall of Fame.
Rhode Island Demographics
Rhode Island total population - 1,048,319
Rhode Island male population - 503,635
Rhode Island female population - 544,684
Rhode Island white population - 891,191
Rhode Island black population - 46,908
Rhode Island American Indian and Alaska Native - 5,121
Rhode Island Asian population - 23,665
Rhode Island Hispanic or Latino population - 90,820
Rhode Island School Information
State R.C. Wood & Associates conduct a series of research projects designed to develop education. It is conducted on April 2006. Rhode Island has many collages and universities. In Rhode Island students attend schools outside their districts because the Rhode Island state local school committee finds that it is more convenient to arrange with a new district for education purpose. Minority students made up approximately 26% of the total enrollment in public elementary and secondary school
Rhode Island State Symbols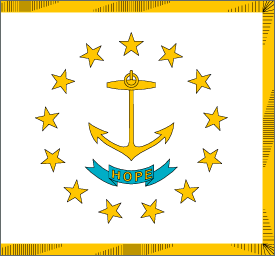 Rhode Island state flag
Rhode Island state Song
Rhode Island, It's for Me
Rhode Island state Motto
Hope
Rhode Island state Fish
Striped Bass
Rhode Island state Flower
Violet
Rhode Island state Fruit
Rhode Island Greening
Rhode Island state Tree
Red Maple
Rhode Island state Soil
Narragansett
Rhode Island state Bird
Rhode Island Red Chicken
Rhode Island state Shell
Northern Quahog
Rhode Island state Ship
USS Providence
Rhode Island History
The first people to inhabit Rhode Island arrived at 8000 years ago. These people are called the Paleo-Indians. They are settled after migrating across the land bridge between Asia and North America in Rhode Island. At this time they are with their families in villages and are maintained by a simple and sustainable lifestyle for thousands of years before the arrival of Europeans. The Native Americans are greeted first by the European explorers and were descendents of these cultures. At the time of European settlement combined population of the Narragansett and Niantics were estimated to be around 7,000. They left the Massachusetts Bay Colony to find religious freedom in the wilderness of Rhode Island. The English settlers quickly found that the land they wanted for settlement was already inhabited by a number of Native American tribes. Middle of 18th century Rhode Island has became a leader in maritime trade. The settlement of Portsmouth was governed by the Portsmouth Compact. During the period of 1754 to 1763 during the French and Indian war, Rhode Island became the first colony formally to renounce all allegiance to King George III in 1776. In the period of 1790 to 1860 there is an Industrial Revolution. It moved the large number of workers into the cities. The Dutch Man Adrien Block was sent up to the coast in search of a good trading ground in Rhode Island. On the 19th century Rhode Island was industrialized, immigrant and urbanized. Following the year the Rhode Island state is flourishing in economy due to large population increases. The Rhode Island state income tax first enacted in 1971. Tax will be levied in sales, gasoline, property, cigarette, corporate and capital gains taxes and remains among the first five in United States. In 1990s Rhode Island was also hardly hit by the recession. Rhode Island State economy was grew less quickly than that of its New England neighbors.
Rhode Island Tourist Information
Tourism is the fastest-growing industry in Rhode Island and it is the second largest industry in Rhode Island. Tourism supports the Rhode Island state economy and over 38,000 jobs as of 2000 estimation. Rhode Island has many tourist attractions. Especially the mansions of Newport and Providence and water sports are the main tourist attractions in Rhode Island. Rhode Island parks and recreational areas are accompanied by 8,063 acres among the Rhode Island state total area.
Rhode Island Transportation
The Rhode Island Public Transit Authority (RIPTA) manages the Rhode Island transportation. RIPTA has 58 bus lines, 2 tourist trolley lines known as LINK and a seasonal ferry to Newport. In urban areas RIPTA provides commuter bus service. Amtrak operated 16 daily trains through Rhode Island in 1996. Rhode Island?s major airports are T. F. Green Airport located in Warwick and next one is Logan International Airport located in Boston.
Rhode Island Taxes
Rhode Island State Tax Rate Range Low 25.0% High Federal tax rates (s)
Rhode Island State Tax Income Brackets Lowest flat rate - Highest flat rate
Rhode Island State Personal Exemptions Single - Married ? Dependents
Rhode Island State Sales Tax Rate on Food 7%, on Prescription Drugs 0%, on Non-prescription Drugs 0%
Rhode Island State Total Tax on Gasoline 31.0%, on Diesel Fuel 31.0%
Rhode Island State Excise Tax Rates on Cigarettes Tax Rate 246(¢ per pack)
Rhode Island State Beer Excise Tax Rate $0.10($ per gallon)
Rhode Island State Wine Excise Tax Rate $0.60($ per gallon)
Rhode Island Universities
Brown University - 8,125 Students
Rhode Island School of Design - 2,259 Students
Bryant University - 3,651 Students
University of Rhode Island - 15,062 Students
Rhode Island College - 9,085Students
Roger Williams University - 4,575 Students
Community College of Rhode Island - 16,373 Students
Johnson & Wales University - 10,310 Students
Gibbs College - 613 Students
Rhode Island Religions
Christian ? 87.5%
Roman Catholic ? 63.6%
Protestant ? 21.6%
Episcopalian ? 8.1%
Baptist ? 6.3%
Evangelical ? 4%
other ? 3.2%
Other Christian ? 2.3%
Jewish ? 1.6%
Muslim ? 0.4%
Self-identified non-religious ? 6%
Other religions ? 4.5%
Rhode Island Counties
Bristol County, Rhode Island - Population 50,648
Kent County, Rhode Island - Population 167,090
Newport County, Rhode Island - Population 85,433
Providence County, Rhode Island - Population 621,602
Washington County, Rhode Island - Population 123,546
Rhode Island Government
Rhode Island has two constitutions. The first one is amended on 1842 and second one in 1986. State elected officials are the governor, lieutenant governor, attorney general, secretary of state and general treasurer. The governor is limited to serving two consecutive terms. Rhode Island is one of the few states that do not have an official Governor's residence. To vote the person must be US citizens and must be 18 years old or over. Rhode Island was listed as the 9th safest state in the country in 2009. Rhode Island has been one of the nation's most solidly Democratic states. Rhode Island has 8 municipalities and 31 townships. State highest court is Supreme Court. Supreme Court justices are chosen by the legislature. Legislators must be qualified voters. All legislatures are elected for four year terms.
Rhode Island Economy
The Rhode Island state economy is depending on the fishing, textiles, agriculture, manufacturing and mining. Fishing industry and textiles are main income sources of Rhode Island. The Rhode Island agricultural products are milk, cattle, hogs, honey, eggs, Sweet corn, Potatoes, apples, Greening apple and hay. The manufacturing sources of Rhode Island are raw products, electrical items, Jewelry, silverware, computer and electronics devices. Stone and sand and gravel are the mined items of the state. The state has so many tourist destinations and the tourism also play role on state economy. Banking and insurance services, health service, trading and community are the important services of Rhode Island. Rhode Island has some of Fortune 500 and Fortune 1000 companies.
Rhode Island Parks
Blackstone River Valley National Heritage Corridor - The Blackstone Valley, MA and RI: No admission fees are charged to visit. Opening hours of operation are 8:00 AM to 5:00 PM, Monday to Friday. The Blackstone Valley will be closed on Federal Holidays. Roger Williams National Memorial - Providence, RI: The visitor center at the Memorial is open daily, 9:00 a.m. to 4:30 p.m. and is closed on January 1, Thanksgiving, and December 25. Memorial and educational programs are free. Touro Synagogue National Historic Site - Newport, RI: There are charged fee for Adult $5 and free for Children under age 13. There services are on all Jewish holidays. This is home of Congregation Jeshuat Israel.