Canada Rentals by Country
Canada Information by Country
Canada Information
Canada is the world's second largest country by total area. It occupies most of North America and extends from the Atlantic Ocean in the east to the Pacific Ocean in the west and northward into the Arctic Ocean. The land of Canada is occupied by millions of Aboriginal people. In 1763 after 7years of war, France shifted all of its colonies to North America. Through Confederation, Canada formed a federal dominion of four provinces by the union of three British North American colonies. With Queen Elizabeth II as its head of state, it is governed as a parliamentary democracy and a constitutional monarchy. It maintains both English and French languages and called as Bilingual Nation. It has a diversified economy and comes under one of the world's highly developed country. It has a long and complex relationship with the United States and is a member of the G8, G-20, NATO, OECD, WTO, Commonwealth, Francophonie, OAS, APEC, and UN. It has a longest border which is commonly connected to the United States to the south and northwest.
Canada Recreation, Culture and Attractions
The culture of Canada is highly influenced by British, French and United States of America. The majority of immigrants were from America from thirteen Colonies. After the War of Independence, there were about 46,000 American political parties shifted to Canada immediately. Media and entertainment programs in English of America were very much popular in Canada, and in turn many cultural products and entertainers of Canada had a great response in America and world wide, through "North American" or Global market. The Canadian Broadcasting Corporation (CBC), the National Film Board of Canada, and the Canadian Radio-television and Communications Commission, was supported by the Federal Government in creating and preserving its culture. In Canada there were Immigrants from all over the world and follow multiculturalism which is the basis of Action 27 of the Canadian Charter of Rights and Freedoms. The National symbols of Canada are greatly influenced by the natural and historical sources. It was depicted that there was a use of maple leaf as a Canadian symbol during 18th century. The other famous and important symbols are the beaver, Canada goose, Common Loon, the Crown, the Royal Canadian Mounted Police and more recently the totem pole and Inukshuk. Hockey is a National past time and a popular spectator sport in the country of Canada. The other sports includes, Curling and Football, Golf, baseball, skiing, soccer, Volleyball and basketball, but football is played professionally in the Canadian Football League (CFL). They are several high-profile international sporting events, which were hosted by Canada including 1976 Summer Olympics in Montreal, the 1988 Winter Olympics in Calgary, and the 2007 FIFA U-20 World Cup.
Canada Demographics
Canada total population - 31,612,895
Canada male population - 15,475,970
Canada female population - 16,136,930
Canada black population - 783,795
Canada South Asian population - 1,233,275
Canada Canadian population - 11,682,680
Canada English population - 5,978,875
Canada French population - 4,668,410
Canada Scottish population - 4,157,210
Canada Irish population - 3,822,660
Canada German population - 2,742,765
Canada Italian population - 1,270,370
Canada Chinese population - 1,094,700
Canada Ukrainian population - 1,071,060
Canada North American Indian population - 1,000,890
Canada Dutch (Netherlands) population - 923,310
Canada Polish population - 817,085
Canada East Indian population - 713,330
Canada Norwegian population - 363,760
Canada Portuguese population - 357,690
Canada Welsh population - 350,365
Canada Jewish population - 348,605
Canada Russian population - 337,960
Canada Filipino population - 327,550
Canada Métis population - 307,845
Canada Swedish population - 282,760
Canada Lebanese population - 270,000
Canada Hungarian (Magyar) population - 267,255
Canada American (USA) population - 250,005
Canada Greek population - 215,105
Canada Spanish population - 213,105
Canada Jamaican population - 211,720
Canada Danish population - 170,780
Canada Vietnamese population - 151,410
Canada School Information
In Canada, education is generally divided into Elementary (Primary School, Public School) followed by Secondary (High School) and Post Secondary (University and College). The education is funded and taken care and directed by the Federal and Local Government. There are district school boards which is administering the educational programs. In every Province of Canada, Education is compulsory up to the age of 6, where as for Ontario and New Brunswick the compulsory age is 18. Generally Canada Has 190 school days in a year starting officially from September (after Labour Day) to the end of June, except in some cases in Quebec it will be just before 24th June. In some of the provinces of Canada, there is an exception of early leaving education at the age of 14 under certain circumstances.
Canada Symbols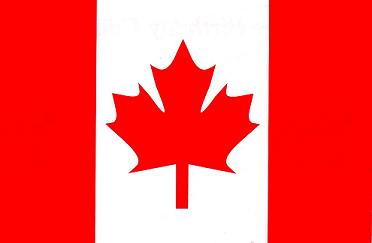 Canada Flag
Canada Flower
peony
Canada Anthem
"O Canada"
Canada Motto
A Mari Usque Ad Mare
Canada Tree
Maple
Canada Animal
Horse
Canada Animal
Beaver
Canada State History
The evolution of Canada was from group of French and British colonies with bilinguals and multiculturalism. The history begins with the arrival of human beings thousands of years ago. During 17th century a large group of people got settled down in Canada but shifted its territories in present-day Canada to Great Britain in 1763. In 1867, the Constitution of Canada took effect with three British colonies uniting them as a single nation of four provinces. Presently it consists of ten provinces and three territories and attained full independence during the 20th century from Britain.
Canada State Tourist Information
Tourist can have a beautiful view of flotilla parade through Caraquet Harbour along with the Acadian musicians and songwriters during Le Gala de la chanson de Caraquet. Even they can take part in a proud boisterous on tine Acadia?s national day celebration on the streets of Caraquet in August. We can even still spot the remains of Roald Amundsen's historic three-masted schooner, called the Maud. We can even stare up the soaring sea cliffs with polka-dotted with the seabirds nesting around. Members of the Franklin Expeditions would be walking at the gravesites. The tourist can even stand on the spot where the first transatlantic signal was received, can also walk the grounds where the final battle of the seven years war of North America. From the edge of a signal hill we can even spot a whale. In the Bay Of Fundy, when the tide is out you can go head and hunt for amethysts (a purple colored stone which is used in the jewelry). There will be a boat rafting on 16-ft waves in the Bay of Fundy, while the tide of monster rushes back in. Cape Breton Island is one of the most beautiful and scenic islands of the world by Condé Nast Traveller. The tourist can even climb a frozen water fall and can even go for a ride, specially designed bus to move on the ice field. Yukon location is one of the stunning locations out side the world which inspires musicians.
Canada State Transportation
The economy of Canada includes the extraction and export of raw materials from its vast area. Due to this, it has a huge transportation system which includes more than 1,400,000 kilometers (870,000 mi) of roads, 10 major international airports, 300 smaller airports, 72,093 km (44,797 mi) of functioning railway track, and more than 300 commercial ports and harbors that provide access to the Pacific, Atlantic and Arctic oceans as well as the Great Lakes and the Saint Lawrence Seaway. The Transportation Sector of Canada in 2005 made up of 4.2% of GDP. The Transportation of Canada is under the federal government's Minister of Transport. There is a Transportation Safety Board of Canada which is responsible for providing Transportation safety to the people who meets with an accidents and making safety recommendations.
Canada Taxes
Canada multi-stage sales tax - 5%
Canada vehicle air conditioner tax - $100 per air conditioning unit
Canada Federal tax rate - 29% of taxable income over $127,021
Canada Payroll Tax - 4.95% (CPP)
Canada VAT / GST / Sales - 5% (GST) 0-10% (provincial sales taxes or value added taxes)
Canada Corporate Tax - 19.5%
Canada Individual Tax - 0-29% (federal), 0-24% (provincial)
Canada Universities
Athabasca University, Alberta, Canada - 24,136 students
Augustana University College, Alberta, Canada - 1000 students
Concordia University College of Alberta, Alberta, Canada - 1000 students
The King's University College, Alberta, Canada - 600 students
University of Alberta, Alberta, Canada - 18172 students
Canada Religions
Canada Roman & Old Catholic Population is 43.6%
Canada Christian Orthodox Population is 1.6%
Canada Coptic Orthodox Population is 0.03%
Canada Romanian Orthodox Population is 0.02%
Canada Other Christian Population is 29.2%
Canada Muslim Population is 2.0%
Canada Jewish Population is 1.1%
Canada Buddhist Population is 1.0%
Canada Hindu Population is 1.0%
Canada Sikh Population is 0.9%
Canada Provinces and territories
Ontario, Canada - Population 13,119,251
Quebec, Canada - Population 7,856,881
BritishColumbia, Canada - Population 4,479,934
Alberta, Canada - Population 3,703,979
Manitoba, Canada - Population 1,226,196
Saskatchewan, Canada - Population 1,034,974
NovaScotia, Canada - Population 940,397
NewBrunswick, Canada - Population 750,457
NewfoundlandandLabrador, Canada - Population 510,272
PrinceEdwardIsland, Canada - Population 141,374
NorthwestTerritories, Canada - Population 43,244
Yukon, Canada - Population 33,963
Nunavut, Canada - Population 32,435
Canada State Government
The federation of Canada is administered by common authorities which mean the collective set of managerial institutions or specifically the Queen-in-Council. As a constitutional monarchy, the Canadian Crown acts as the core, or "the most basic building block," of the kingdom's Westminster-style parliamentary democracy. The branches of Canadian government are legislative and judicial branches of the Canadian government. The further elements of government are written statutes, court rulings, and unwritten conventions.
Canada State Parks
The National Parks of Canada preserves and represents the Natural Vegetation of the country, which is located in every one of the nation's 13 provinces and territories. The main aim of the national park is to form and represent different types of natural regions of the country. The governing and administration body for the system developed a plan which identifies 39 different regions of the country. As of 2005 the system is more than 60% complete. Primarily it is managed to protect the ecological balance and secondarily allow the people to research, learn about and enjoy its natural vegetation. In 2005 Analytical studies have been undertaken for establishing further national parks in three areas: Wolf Lake in Yukon, South Okanagan-Lower Similkameen in British Columbia and the Manitoba Lowlands (north-estern Lake Winnipeg). There are 36 National Parks and six National Park Reserves (including Kluane National Park and Reserve, which is considered both a National Park and a Reserve) as of 2008, which even include the country's three National Marine Conservation Areas (NMCAs), the lone National Landmark and three future parks.