Charlotte Region Information


Charlotte is a North Carolina's largest city in United States. The city has 731,424 populations in 2010 estimation. In population wide the city is the 17th largest city in the United States. Charlotte's nick name is the "Queen City". It is a financial center in United States. The city total area is 297.7 sq mi. and it is a major economic center with rising finance and resistance industries, the city's economic base continues to grow at a rate more than twice that of the rest of the country. An outstanding national highway system, good railroad contact, and a domestic port facility are other factors that have made Charlotte the major supply center of the Southeast and one growing in both national and international importance. It has developed as a major city of the new South and of the nation and its people continues to keep a clear vision of what makes a good life. The city has a tropical subtropical climate and is placed halfway among the Appalachian Mountains and the Atlantic Ocean, between Washington, D.C. and Atlanta.
Charlotte Region Rentals by Area More Cities
Charlotte Region Information by Area More Cities
Alexander County Information
Anson County Information
Cabarrus County Information
Catawba County Information
Charlotte Information
Gaston County Information
Iredell County Information
Lincoln County Information
Mecklenburg County Information
Richmond County Information
Rowan County Information
Stanly County Information
Union County Information
Charlotte Region Recreation, Culture and Attractions
Charlotte Region is North Carolina's major cultural center. Culturally inclined residents and tourists in Charlotte can view a wide array of collections at the Mint Museum of Art, it was established in 1936. The city has many historical museums and art galleries. The main museums and art galleries included the Bechtler Museum of Modern Art, Billy Graham Library, Carolinas Aviation Museum, Charlotte-Mecklenburg Fire Education Center and Museum, Charlotte Nature Museum in Freedom Park, Charlotte Trolley Museum in Historic South End, Discovery Place, Discovery Place KIDS-Huntersville, Harvey B. Gantt Center for African-American Arts + Culture, Historic Rosedale Plantation, Levine Museum of the New South, The Light Factory, McColl Center for Visual Art, Mint Museum of Art, Mint Museum of Craft + Design, NASCAR Hall of Fame, Second Ward Alumni House Museum, Actor's Theatre of Charlotte, Carolina Actors Studio Theatre (CAST), Charlotte Symphony Orchestra, Children's Theatre of Charlotte, ImaginOn, North Carolina Blumenthal Performing Arts Center, Opera Carolina, The Robot Johnson Show, Theatre Charlotte and Tremont Music Hall. The city's cultural events, lectures, and performing are presented at the Afro-American Cultural Center. The city has number of tourist attractions and picnic areas also. Charlotte is hosts many festivals, events year around. The major festival is the three-day Spring Fest, which draws more than 300,000 people uptown to celebrate the resources of spring each April. Charlotte has two major professional sports franchises; they are the Carolina Panthers of the National Football league, and the Charlotte Bobcats of the National Basketball Association.
Charlotte Region Demographics
Charlotte total population - 709,441
Charlotte male population - 347,589
Charlotte female population - 361,852
Charlotte White population - 337,106
Charlotte Black population - 230,212
Charlotte Hispanic population - 86,941
Charlotte Asian population - 30,985
Charlotte American population - 2,001
Charlotte Region Flag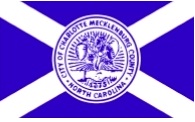 Charlotte Region Education
Now the city of Charlotte education system is forefront of improvement. Charlotte's public school system is the second largest in North Carolina and 20th largest in the nation. The city has many famous universities and colleges such as Central Piedmont Community College, Charlotte School of Law, Johnson C. Smith University, Johnson & Wales University, Queens University of Charlotte, and the University of North Carolina at Charlotte it is a fastest growing campus in the University of North Carolina system. The city has 7th rank on its "The Best Education in the Biggest Cities" list that absorbed on numerous factors such as housing values and high school graduation rates. While the city Library's roots are go back to the Charlotte Literary and Library Association it is founded on January 16, 1891. The city is home to many libraries including the Public Library of Charlotte & Mecklenburg County is North Carolina's largest system.
Charlotte Region Symbols
Charlotte Nickname - The Queen City

Charlotte Region History
The area of Charlotte was first settled in the year of 1755 when Thomas Polk, traveling with Thomas Spratt and his family, stopped and built his house at the connection of two Native American trading paths between the Yadkin and Catawba rivers. In the 18th century the Great Wagon Road led colonizers here from Pennsylvania into the Carolina foothills. From the period of 1781 to 1800 Charlotte further a flour mill and a saw mill to its growing settlement. The city's churches, mostly of the Presbyterian faith, but also Baptists, Methodists, Episcopalians, Lutherans and Catholics began to form in the early 1800s, finally giving Charlotte its nickname "The City of Churches." Now the city mostly development of the cotton gin helped to establish Charlotte as a ginning and exchange center, and the town grown into a textile power. Charlotte's first boom arose after the Civil War, as a cotton dispensation center and a railroad center. Population bounded again through the World War I, when the U.S. government recognized Camp Greene north of present-day Wilkinson Boulevard. Now the city's business developments and relocations created many new jobs and an economy that sustained to succeed despite the recession in the early 2000s. Currently the city is a major financial center in United States.
Charlotte Region Transportation
Charlotte Transportation is a major industry in the city economy. It is the agency responsible for operating form transit in Charlotte, and Mecklenburg County. Charlotte has Douglas International Airport it is the 8th busiest airport in the U.S. and ninth busiest in the world as measured by traffic. The city is United States Airways center. The Charlotte Area Transit System it is known as CATS managed more than 40 routes for about 12 million passengers annually; the system also offers two vanpool programs, special transportation services for the disabled, and shuttle services. Now the city planned a Gateway Station. It is a new national multi-modial train station.
Charlotte Region Universities
Johnson & Wales University, Charlotte, North Carolina, USA - 16,095 Students
Johnson C. Smith University, Charlotte, North Carolina, United States - 1,500 Students
Queens University of Charlotte, Charlotte, North Carolina, USA - 2351 Students
University of North Carolina at Charlotte, Charlotte, North Carolina, U.S. - 25,063 Students
Wake Forest University, Winston-Salem, North Carolina, United States - 6830 Students
Winthrop University, Rock Hill, South Carolina, United States - 6241 Students

Charlotte Region Tourist Attractions
Ballantyne Hotel and Lodge - Charlotte, NC - A Variety of Accommodations, Amenities, and Activities
Ballantyne Neighborhood in Charlotte
Bank of America Stadium - Charlotte, North Carolina - Carolina Panthers football stadium
Carowinds in Charlotte
Charlotte/Douglas International Airport
Charlotte Marriott City Center
Charlotte Nature Museum
Cotswold Village Shops in Charlotte
Derita neighborhood in Charlotte
Discovery Place in Charlotte
Elizabeth Neighborhood in Charlotte
Hendrick Motorsports Complex in Charlotte
Highland Creek Neighborhood in Charlotte
Hilton Charlotte Center City, NC
Independence Boulevard in Charlotte
Levine Museum of the New South, Charlotte, NC
Marriott Charlotte Executive Park, NC
Myers Park Neighborhood in Charlotte
NoDa neighborhood in Charlotte
Northlake Mall, Charlotte, North Carolina
Omni Charlotte Hotel
Phillips Place Mall in Charlotte
Plaza-Midwood neighborhood in Charlotte
Renaissance Charlotte Suites, NC
Sedgefield Neighborhood in Charlotte
Charlotte Museum of History in North Carolina a Fun and Educational Experience
U.S. National Whitewater Center in Charlotte, NC a Treat for Water Lovers
The Fourth Ward Neighborhood in Charlotte, NC is a Historic Treasure
South Park District in Charlotte, NC is an Upscale Neighborhood
Discovery Place in Charlotte, NC is Fun Family Fare
Ballantyne Resort in Charlotte, North Carolina a Great Place for a Respite
Cape Fear Museum in Wilmington, NC is a Treasure Trove of History
Battleship NORTH CAROLINA in Wilmington, NC Offers a Look at History
Sherwood Forest Neighborhood in Charlotte
SouthPark Mall in Charlotte
Spirit Square Arts Center in Charlotte
Starmount Neighborhood in Charlotte
Time Warner Cable Arena, Charlotte, North Carolina
UNC Charlotte Botanical Gardens
University City neighborhood in Charlotte
Westin Charlotte, NC
Zuma Fun Center in Charlotte

Charlotte Region neighborhoods
Arbor Glen neighborhood
Ashbrook (Clawson Village) neighborhood
Ashley Park neighborhood
Autumnwood neighborhood
Ballantyne neighborhood
Becton Park neighborhood
Belmont neighborhood
Beverly Woods neighborhood
Biddleville neighborhood
Briarcreek-woodland neighborhood
Brookdale Townhomes neighborhood
Brookhills neighborhood
Cabarrus Woods neighborhood
Capitol Drive neighborhood
Carmel neighborhood
Chantilly neighborhood
Cherry neighborhood
Clanton Park neighborhood
Closeburn (Glenkirk) neighborhood
Coliseum Drive neighborhood
Collingwood neighborhood
Colonial Village neighborhood
Commonwealth (Morningside) neighborhood
Cotswold neighborhood
Country Club Heights neighborhood
Coventry neighborhood
Coventry Woods neighborhood
Double Oaks neighborhood
Druid Hills North neighborhood
Druid Hills South neighborhood
East Forest neighborhood
Eastland neighborhood
Eastover neighborhood
Eastway (Sheffield Park) neighborhood
Echo Hills neighborhood
Elizabeth neighborhood
Enderly Park neighborhood
Farm Pond neighborhood
Farmington Ridge neighborhood
First Ward neighborhood
Fourth Ward neighborhood
Foxcroft neighborhood
Frances Park neighborhood
Freedom Park neighborhood
Garden Park (Firestone) neighborhood
Genesis Park neighborhood
Governor's Square neighborhood
Greenville neighborhood
Grier Heights neighborhood
Griers Fork neighborhood
Hampshire Hills neighborhood
Hemphill Heights (Rockwell Park) neighborhood
Hickory Grove neighborhood
Hickory Ridge neighborhood
Hidden Valley neighborhood
Highland Creek neighborhood
Highway 51 (Park Road) neighborhood
Idlewild Farms neighborhood
Idlewild South neighborhood
Kings Grant Corporate Park neighborhood
Lakewood neighborhood
Lansdowne neighborhood
Lincoln Heights neighborhood
Lockwood neighborhood
Madison Park neighborhood
Marlwood neighborhood
McAlpine (Johnston Road) neighborhood
Mccrorey Heights neighborhood
Mineral Springs (Rumble Road) neighborhood
Montclaire South neighborhood
Montibello neighborhood
Mountainbrook neighborhood
Myers Park neighborhood
North Charlotte (NoDa) neighborhood
Oak Forest neighborhood
Oakdale North neighborhood
Oakhurst neighborhood
Oaklawn neighborhood
Oakview Terrace neighborhood
Olde Providence North neighborhood
Olde Providence South neighborhood
Optimist Park neighborhood
Park Crossing neighborhood
Pawtuckett neighborhood
Piper Glen Estates neighborhood
Plaza Hills neighborhood
Plaza Midwood neighborhood
Plaza-shamrock neighborhood
Ponderosa (Wingate) neighborhood
Providence Park neighborhood
Providence Plantation neighborhood
Quail Hollow neighborhood
Reid Park neighborhood
Revolution Park neighborhood
Sardis Forest neighborhood
Sardis Woods neighborhood
Second Ward neighborhood
Sedgefield neighborhood
Seven Eagles neighborhood
Seversville neighborhood
Shannon Park neighborhood
Sharon Woods neighborhood
Sherwood Forest neighborhood
Silverton neighborhood
Slater Road (Hamilton Circle) neighborhood
Smallwood neighborhood
South End (Dilworth) neighborhood
SouthPark (Barclay Downs) neighborhood
Southside Park neighborhood
Starmount neighborhood
Starmount Forest neighborhood
Statesville (Derita) neighborhood
Steeplechase neighborhood
Sterling neighborhood
Stonehaven neighborhood
Sugaw Creek (Ritch Avenue) neighborhood
Third Ward neighborhood
Thomasboro (Hoskins) neighborhood
Todd Park neighborhood
Toddville Road neighborhood
Touchstone Village (Elm Lane) neighborhood
Trinity (Beatties Ford) neighborhood
Tryon Hills neighborhood
University Park neighborhood
Uptown neighborhood
Villa Heights neighborhood
Washington Heights neighborhood
Wendover (Sedgewood) neighborhood
Wesley Heights neighborhood
Wessex Square neighborhood
West Blvd neighborhood
Westchester neighborhood
Westerly Hills neighborhood
Westover Hills neighborhood
Wildwood neighborhood
Wilmore neighborhood
Wilora Lake neighborhood
Wilson Heights neighborhood
Windsor Park neighborhood
York Road neighborhood
Yorkmount neighborhood

Charlotte Region Religions
Charlotte Catholic Church population is 18%
Charlotte United Methodist Church population is 14%
Charlotte Southern Baptist Convention population is 22%
Charlotte Presbyterian Church population is 13%
Charlotte other population is 33%

Charlotte Region Government
Charlotte has governed by two elective entities they are 11-member city council with an elected mayor, all of whom serve two-year terms; and a qualified city manager, a position selected by the city council. Contrasting some other cities and towns in North Carolina, elections are held on a partisan basis. Republican strength is determined in the southeastern share of the city, while Democratic strength is concentrated in the south-central, eastern and northern areas in Charlotte. Although the city council is responsible for transitory orders, many policy decisions must be agreed by the North Carolina General Assembly as well, since North Carolina municipalities do not have home rule. Since the 1960s, though, municipal powers have been broadly construed.
Charlotte Region Geography
Charlotte is a largest city in North Carolina. It is placed near the South Carolina state line, Charlotte is the Mecklenburg county seat. It is a center city sits above a long growth between two creeks, Sugar Creek and Irwin Creek and was built on the gunnies of the St. Catherine's and Rudisill gold mines and it is about 85 miles south and east of the Appalachian Mountains, and about 180 miles northwest of the Atlantic Ocean. Accordingly the city improvement has neither been forced nor helped by waterways or ports that have contributed too many cities of similar size. The city has moderate climate with cool winters and pretty warm summer days are mitigated by greatly cooler nights.
Charlotte Region Economy
Charlotte is the major economical center in United States. It is a nation's second largest economic institution by assets, Bank of America, calls the city home. The Charlotte Region has a major base of energy-oriented establishments and has become known as "Charlotte USA - The New Energy Capital." The city has developed into a major extensive center with the highest per capita sales in the United States, ranking sixth generally in total wholesale sales. Numerous issues attract foreign businesses to Charlotte from such countries as Germany, Great Britain, Japan, France, Switzerland, Italy, and Canada. The state of North Carolina provides trainers and, at the company's appeal, may test and screen job candidates. The industrial training service is supported solely by the state of North Carolina. Now the city's retail building being formed by a court ruling made in 2000.
1/31/2012 Maggie
Write Comment
Charlotte Fun Facts
Charlotte is the largest city between Washington, D.C. and Dallas, TX. There are over 700 places of worship in the city. Some must see attractions include The Fourth Ward neighborhood and The James K. Polk Memorial
Sublet.com is an apartment rental service that advertises apartments, sublets, subleases, roommates & houses for rent. Apartment rentals, sublets, subleases, roommates and potential renters have not been screened, verified or evaluated. Individuals utilizing this rental service to find apartments, sublets, subleases, roommates or tenants take full responsibility for their actions & understand that the owners of the site take no responsibility for any consequences of using this service

&copy Copyright Spyder Web Enterprises LLC, 1999 to present. All rights reserved.