Staten Island Information


Staten Island Information


Staten Island is one of the boroughs of New York City, New York, United States. It is situated in the southwest part of the city. The city is divided from New Jersey by Kill Van Kull and Arthur Kill, which are crossed by bridges. This was visited by Henry Hudson in 1609 and was named Staten Island by the Dutch. The Native population throng off the first white settlers, but by 1661 a permanent settlement had been founded. Now the city is known as Staten Island. It had 468,730 populations in 2009 estimation in New York. It is the most inhabited of the five boroughs of New York City. The city total area is 160 sq km. The industrial area of Staten Island is placed in the north, where docks line the northern and eastern coast. Now the city has free Ferry connects the borough to Manhattan and is a popular tourist attraction, providing views of the Statue of Liberty, Ellis Island and lower Manhattan. The city used to maintain the largest landfill in the world.
Staten Island Rentals by Area
More Cities
Staten Island Information by Area
More Cities
Annadale Information
Arden Heights Information
Arlington Information
Arrochar Information
Bay Terrace Information
Bloomfield Information
Bulls Head Information
Butler Manor Information
Castleton Corners Information
Charleston Information
Chelsea Area Information
Clifton Information
Concord Information
Dongan Hills Information
Elm Park Information
Eltingville Information
Emerson Hill Information
Graniteville Information
Grant City Information
Grasmere Information
Great Kills Information
Greenridge Information
Grymes Hill Information
Heartland Village Information
Howland Hook Information
Huguenot Information
Lighthouse Hill Information
Mariners Harbor Information
Midland Beach Information
New Brighton Information
New Dorp Information
New Springville Information
Oakwood Information
Old Town Information
Park Hill Information
Pleasant Plains Information
Port Ivory Information
Port Richmond Information
Princes Bay Information
Randall Manor Information
Richmond Town Information
Richmond Valley Information
Rosebank Information
Rossville Information
Shore Acres Information
Silver Lake Information
South Beach Information
St. George Information
Stapleton Information
Sunnyside Information
Todt Hill Information
Tompkinsville Information
Tottenville Information
Travis Information
West Brighton Information
Westerleigh Information
Willowbrook Information
Woodrow Information
Staten Island Recreation, Culture and Attractions
The city has rich culture. The Council on the Arts and Humanities for Staten Island is Staten Island's local arts committee and helps maintain local artists and cultural organizations with regrets, workshops, folklife & arts-in-education programs, and encouragement. Conceived by the Staten Island Economic Development Corporation to launch independent and intercontinental films to a broad and diverse audience, the Staten Island Film Festival held its first four-day festival in 2006. The city is home to many tourist attractions. Historic Richmond Town is New York City has alive history village and museum complex. There are many visiting spots. Some of the visiting spots are restored buildings, including homes, commercial and civic buildings, and a museum. There is Staten Island Zoo in Staten Island. It is the first zoo wherever to show all the 32 varieties of rattlesnakes known to happen in the United States. Staten Island also has a huge local music scene. The city's local bands include many punk, ska, hardcore punk, indie, metal, and pop punk bands. There are many museums; the city is home to the National Lighthouse Museum. Staten Island previously had a qualified football team which was a member of the NFL called the Staten Island Stapletons.
Staten Island Demographics
Staten Island total population - 481,026
Staten Island male population - 232,513
Staten Island female population - 248,513
Staten Island White population - 316,316
Staten Island Hispanic population - 53,550
Staten Island Asian population - 24,786
Staten Island Black population - 39,704
Staten Island Other race population - 857
Staten Island American population - 599
Staten Island Native Hawaiian and Other Pacific Islander population - 119
Staten Island Flag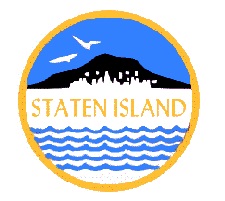 Staten Island Education
The Staten Island Education is depended by many private and public institutions. The New York City Department of Education is operated by the public and private schools in Staten Island. There are many public schools in Staten Island. They are College of Staten Island High School for International Studies Curtis High School, New Dorp High School, Petrides High School, Port Richmond High School, Staten Island Technical High School, Susan E. Wagner High School, Tottenville High School, Ralph R. McKee Career and Technical Education High School, Staten Island School of Civic Leadership. The city is home to Staten Island Academy is the only independent private grade school on the island and is one of the oldest in the entire country. There is College of Staten Island in Staten Island; it is one of the eleven senior colleges of the City University of New York. It is also provide post-graduate stage study from master's to doctoral level study.
Staten Island History
The island was almost certainly deserted later, probably because of the extinction of large mammals on the island. The city is the least populated borough and frequently measured a stepchild of its larger siblings. The Island is formed like a threesome and is 13.9 miles long and 7.3 miles wide, a total of 60.9 square miles, the third major borough. In 1524 the first sighted by Giovanni da Verrazano the Island remained generally populated by the Raritans and Unamis Indians until about 1630 when the Dutch attempted to found settlements there. New Jersey claimed manages of Staten Island based on the original land donation which complete to the middle of the Narrows, and therefore owned Staten Island. New York claimed authority over the waters as far as low water mark on the Jersey shore session long possession. In 1700 English and Richmond began to flourish the population had developed to a thousand, mostly English, French and Dutch. Throughout its early days, Richmond remained a countryside community, sustaining many farms, mills and a growing fisherman's industry, mostly shell fishing. The Island played an important role during the Revolutionary War. In the 1788 New York State Legislature separated the island into four towns they are Castleton, Northfield, Southfield and Westfield. Many residents supposed that an idea planned by Andrew Greene in 1868 for an incorporated city, would be the answer. A lot of parts of the borough still have infected systems and nearly all of the roads were built by developers with only a few inches of tarmac over dirt and a rail link to Brooklyn or Manhattan was never constructed. It was not until the 1980s that another issue would give momentum to a rehabilitated effort to secede from New York City. Now the City of Staten Island would be the second largest city in New York State, and the 36th largest city in the country.
Staten Island Tourism
The Staten Island President James Molinaro started a program to enlarge tourism. This is also includes a "Staten Island Attractions" video that is aired in both the Staten Island and the Manhattan Whitehall ferry terminals, as well as informational kiosks at the terminals, which provide written information on Staten Island attractions, activity and restaurants. The city is home to the Staten Island Zoo, which newly opened a newly refurbished reptile display and is in the method of conniving a new carousel and leopard enclosure. The most inhabited of the five boroughs, Staten Island is often deserted as a tourist destination. The Staten Island has attractive Hamilton Park region was the setting for "The Godfather."
Staten Island Transportation
The transportation is playing a major role in the Staten Island economy. The city is linked to New Jersey via three vehicular bridges and one Railroad Bridge. The Arthur Kill Vertical Lift Railroad Bridge carries contents connecting the northwest part of the island and Elizabeth, New Jersey. Staten Island is linked to Brooklyn via the Verrazano-Narrows Bridge by I-278, the Staten Island Expressway. The Staten Island Railway has its own Staten Island Rapid Transit Police strength. The Staten Island Ferry is the only through transportation network from Staten Island to Manhattan, approximately a 25 minute trip. The Staten Island Ferry runs 20 million people a year between ferry service among St. George on Staten Island and Whitehall Street in lower Manhattan.
Staten Island colleges
College of Staten Island, Staten Island, New York, USA - 13,092 Students
Wagner College, Staten Island, New York, USA - 2,017 Students

Staten Island tourist attractions
Snug Harbor Cultural Center - Staten Island, NY - Unique Historical and Art Center
Staten Island Zoo - Staten Island, New York - zoo within Clarence T. Barrett Park

Staten Island Neighborhoods
Annadale neighborhood
Arden Heights neighborhood
Arlington neighborhood
Arrochar neighborhood
Bay Terrace (Staten Island) (Bay Terrace) neighborhood
Bloomfield neighborhood
Bull's Head neighborhood
Castleton Corner neighborhood
Charleston neighborhood
Clifton neighborhood
Concord neighborhood
Dongan Hills neighborhood
Elm Park neighborhood
Eltingville neighborhood
Emerson Hill neighborhood
Fort Wadsworth neighborhood
Fresh Kills neighborhood
Grand City neighborhood
Graniteville neighborhood
Grant City neighborhood
Grasmere neighborhood
Great Kills neighborhood
Grymes Hill neighborhood
Heartland Village neighborhood
Howland Hook neighborhood
Huguenot neighborhood
Lighthouse Hill neighborhood
Livingston neighborhood
Mariners Harbor neighborhood
Midland Beach neighborhood
New Brighton neighborhood
New Dorp neighborhood
New Springville neighborhood
Oakwood Beach neighborhood
Old Town neighborhood
Park Hill neighborhood
Pleasant Plains neighborhood
Port Ivory neighborhood
Port Richmond neighborhood
Prince's Bay (Princes Bay) neighborhood
Randall Manor neighborhood
Richmond Town (Richmondtown) neighborhood
Richmond Valley neighborhood
Rosebank neighborhood
Rossville neighborhood
Shore Acres neighborhood
Silver Lake neighborhood
South Beach neighborhood
St. George neighborhood
Stapleton neighborhood
Staten Island neighborhood
Sunnyside neighborhood
Todt Hill neighborhood
Tompkinsville neighborhood
Tottenville neighborhood
Ward Hill neighborhood
West Brighton (West New Brighton) neighborhood
Westerleigh neighborhood
Woodrow neighborhood

Staten Island Religions
Staten Island Catholic Church Population is 80%
Staten Island other population is 20%

Staten Island Government
The Staten Island has been governed by the New York City Charter that offers for a "strong" mayor-council system. The Borough has three appointed Community Boards with advisory and limited governmental powers. The borough president office consolidation in 1898 and it is balance centralization with local power. Each borough president had a commanding administrative role subsequent from having a vote on the New York City Board of Estimate. Staten Island has nominated for a Democratic presidential nominee only three times since 1952. The Borough's government is centralized New York City government is liable for public education, correctional institutions, libraries, public safety, recreational facilities, sanitation, water supply, and welfare services on Staten Island.

Staten Island Economy
Staten Island Economic Development Corporation (SIEDC) has assisted as the leading economic development supporter ration the business community of Staten Island. SIEDC's mission is to improve a flourishing Staten Island economy by encouraging public and private investment and inspiring the development of commercial and industrial property and projects in an ecologically friendly manner, all of which increase the quality of life and provide broad and diverse employment opportunities. At the heart of this mission is the confidence that admission to economic chance and protected jobs is a support of strong communities. This corporation staff has been responsible for presenting over $550 million in new speculation and over 3,500 jobs into the Staten Island economy by given that support to those applying large development projects in the Borough.
Staten Island Geography
Staten Island is a borough of New York City. It is conferring to the United States Census Bureau; the borough-county has a total area of 102.5 square miles (265.5 kmē). It is divided from Long Island by the Narrows and from mainland New Jersey by the Arthur Kill and the Kill Van Kull. Staten Island total area is 59 sq mi it is the third largest borough in New York City. The city is convenience of open space through the island the site of large container-handling amenities, as well as New York City's 3,000-acre.
Staten Island Parks
The city of Staten Island parks are managed by the New York City Parks Department. New York State Department of Environmental Conservation provides watches the lands and performs law implementation duties. Staten Island includes hundreds of acres of national, state and local park land including the "greenbelt" and "blue belt" park systems and the Gateway National Recreation Area. Some of the national parks are Great Kills Park Miller Field, Fort Wadsworth, Hoffman Island, Swinburne Island, Conference House Park and Willowbrook Park in Staten Island. U.S. Park Police Officers and NPS Law Enforcement Rangers watch the overhead on Staten Island.
Sublet.com is an apartment rental service that advertises apartments, sublets, subleases, roommates & houses for rent. Apartment rentals, sublets, subleases, roommates and potential renters have not been screened, verified or evaluated. Individuals utilizing this rental service to find apartments, sublets, subleases, roommates or tenants take full responsibility for their actions & understand that the owners of the site take no responsibility for any consequences of using this service

&copy Copyright Spyder Web Enterprises LLC, 1999 to present. All rights reserved.