New Jersey Rentals by Region
New Jersey Information by Region
New Jersey State Information
New Jersey State was located on northeastern of United State. New Jersey State was size wise 46th rank among the 50 states of US. New Jersey State total area was 20,168 sq km. New Jersey is bordered on the north by New York State, east by Atlantic Ocean, south by Delaware and west by Pennsylvania. New Jersey state total boundary length is 773 km. More than 42%of New Jersey's land area was forestland. The total forest land is 863,000 hectares. New Jersey has a moderate climate with cold winters and warm, humid summers. New Jersey may also experience drought and rain-free period for weeks. Northwestern parts of the state have slightly colder winters with average temperatures just below freezing. New Jersey State ranked with population 9th rank. New Jersey State total population is 8,682,661 in 2008 estimation. The population is projected to reach 9.6 million by 2025. New Jersey is the eleventh-most populous state in the United States. New Jersey has welcomed many denominations to its shores. In 1848 established the state first synagogue in Newark. Roman Catholics now constitute the state's single largest religious group. The next largest group was Jewish, with about 468,000 members. New Jersey State official language is English. New Jersey State was predominantly agricultural until the middle of 1800s. New Jersey State's total farm income was $821 million. New Jersey is a leading producer of fresh fruits and vegetables. New Jersey State's largest industries are services, 30.7% of earnings in 1998.
New Jersey Recreation, Culture and Attractions
New Jersey State culture was attuned to water. State's southern counties have sections so rural, there are no road signs. Travel, escape, driving away and leaving is part of New Jersey culture. New Jersey State has many tourist attractions. There also are several historical attractions where visitors can learn about New Jersey agriculture from the beginning. The State has a destination brimming with a unique variety of exceptional attractions, a wealth of natural open space, pastoral areas, scenic farmland and world renowned entertainment venues. Since 1801 the state has been a popular attraction. State attractions include ten ski areas in northwestern New Jersey, canoeing and camping at the Delaware Water Gap National Recreation Area. New Jersey has 31 public golf courses, and 30 amusement parks. New Jersey has no major league professional team until 1976. New Jersey is home for Nets made a surge in the recent past, becoming one of the most successful teams in the NBA. New Jersey is historically significant in the births of two major national sports. In New Jersey State popular spot is thoroughbred racing.
New Jersey Demographics
New Jersey total population - 8,414,350
New Jersey male population - 4,082,813
New Jersey female population - 4,331,537
New Jersey white population - 6,104,705
New Jersey black population - 1,141,821
New Jersey American Indian and Alaska Native - 19,492
New Jersey Asian population - 480,276
New Jersey Hispanic or Latino population - 1,117,191
New Jersey School Information
New Jersey State Department of Education was responsible for ensuring that local schools comply with state and federal laws and regulations. The Education Department was administers assessment tests to public school students to monitor academic progress. The Education Department was including the agencies for State Board of Education. The major private university in the state and one of the nation's leading institutions is Princeton University, founded in 1746. The State has 14 public four-year colleges, 19 two-year community colleges, and 21 private colleges.
New Jersey State Symbols
State nickname - The Last Frontier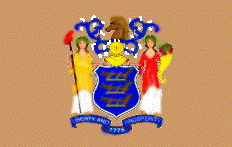 New Jersey state flag
New Jersey state animal
Horse
New Jersey state bird
American Goldfinch
New Jersey state Fish
Brook trout
New Jersey state dance
Square dance
New Jersey state insect
European honey bee
New Jersey state flower
Common meadow violet
New Jersey state motto
Liberty and Prosperity
New Jersey state song
''I'm From New Jersey'' (Unofficial)
New Jersey state tree
Northern Red Oak
New Jersey state dinosaur
Hadrosaurus
New Jersey state soil
Downer
New Jersey state color
Jersey blue
New Jersey state ship
A. J. Meerwald
New Jersey state fruit
Northern highbush blueberry
New Jersey state vegetable
Jersey Tomato
New Jersey state shell
Knobbed Whelk
New Jersey state Tree
Dogwood
New Jersey state slogan
Come see for yourself
New Jersey State History
The history of New Jersey goes back to Under the Dutch and Swedish communities are settlement by the English. The English who took over New Netherlands were less hostile. New Jersey was organized as an English colony under Government Philip Carteret. In this time many setters are arrived as land was sold inexpensively with the promise of political and religious freedom. The Lenni Lenape of Brotherton stayed with the Oneida until 1832, when they moved to Wisconsin. Unfortunately the Lenni Lenape was unable to remain a cohesive group because of the displacement caused by the European settlers. A Quaker colony arrived in the year of 1674. This colony was divided between into West and East Jersey. The land was officially named New Jersey after the Isle of Jersey in the English Channel. In West Jersey the government was exceedingly mild. New Jersey was separated from New York under its own royal governor in the year of 1738. New Jersey was an important state during the Revolutionary War because of its location near the center of the thirteen colonies and between New York City and Philadelphia. New Jersey was gained their independence from Great Britain in 1776. In December 1787, New Jersey was became the 3rd state of the Union as it ratified the U.S. Constitution and the first state to sign the Bill of Rights. In World War I and II, the state was supplied many soldiers.
New Jersey State Tourist Information
Tourism is the most important of the economy of New Jersey. Tourism industry is a leading industry in New Jersey. There were about 60.8 million visitors to the state, 57% of which were day-trip travelers in 2002 estimation. The major cities economy is almost totally dependent upon the tourism. Some 33 million people visit Atlantic City annually. New Jersey State was home for many tourist attractions. There are 31 public golf courses, and 30 amusement parks, including Great Adventure in central Jersey.
New Jersey State Transportation
The New Jersey State transportation agencies are managed to the New Jersey Department of Transportation. Stephen Dilts is the present Commissioner of the State Department of Transportation. Transportation has been of central importance to New Jersey. There were 6,501,884 registered vehicles in the state in 2000, including 4,450,719 automobiles, 1,917,774 trucks, and 21,538 buses. The major highways are the New Jersey Turnpike. The roadways improved were slow, but by 1828, the legislature had granted 54 turnpike charters. The New Jersey Department of Transportation was also responsible for funding and supporting passenger rail service. The busiest airport is Newark Liberty International Airport. It is operated by the Port Authority of New York and New Jersey.
New Jersey Taxes
New Jersey State Tax Rate Range Low 1.4,% High 8.97%
New Jersey State Tax Income Brackets Lowest flat rate 20,000 (l) - Highest flat rate 500,000 (l)
New Jersey State Personal Exemptions Single - 1,000 Married ? 2,000 Dependents ? 1,500
New Jersey State Sales Tax Rate on Food 7%, on Prescription Drugs 0%, on Non-prescription Drugs 0%
New Jersey State Total Tax on Gasoline 14.50%, on Diesel Fuel 17.50%
New Jersey State Excise Tax Rates on Cigarettes Tax Rate 257.5(¢ per pack)
New Jersey State Beer Excise Tax Rate $0.12($ per gallon)
New Jersey State Wine Excise Tax Rate $0.70($ per gallon)
New Jersey Universities
Princeton University - 7,085 Students
Stevens Institute of Technology - 4,829 Students
The College of New Jersey - 6,934 Students
Rutgers University-New Brunswick - 34,392 Students
Rutgers University-Newark - 10,203 Students
Seton Hall University - 9,521 Students
Rowan University - 9,578 Students
Drew University - 2,647 Students
New Jersey Institute of Technology - 8,209 Students
The Richard Stockton College of New Jersey - 7,212 Students
New Jersey Religions
Catholic - 37%
None - 15%
Baptist - 8%
Methodist - 6%
Refused to identify - 5%
Christian (no denomination stated) - 4%
Jewish (by religion only) - 2%
Other - 4%
Presbyterian - 4%
Lutheran - 3%
Episcopalian/Anglican - 2%
Protestant - 2%
Jehovah's Witness - 1%
Mormon/LDS - 1%
Muslim/Islamic - 1%
Non-denominational - 1%
Pentecostal - 1%
New Jersey Counties
Atlantic County, New Jersey - Population 270,681
Bergen County, New Jersey - Population 894,840
Burlington County, New Jersey - Population 445,475
Camden County, New Jersey - Population 517,234
Cape May County, New Jersey - Population 95,838
Cumberland County, New Jersey - Population 156,834
Essex County, New Jersey - Population 770,675
Gloucester County, New Jersey - Population 287,860
Hudson County, New Jersey - Population 595,419
Hunterdon County, New Jersey - Population 129,031
Mercer County, New Jersey - Population 364,883
Middlesex County, New Jersey - Population 789,102
Monmouth County, New Jersey - Population 642,448
Morris County, New Jersey - Population 487,548
Ocean County, New Jersey - Population 569,111
Passaic County, New Jersey - Population 490,948
Salem County, New Jersey - Population 66,141
Somerset County, New Jersey - Population 324,563
Sussex County, New Jersey - Population 150,909
Union County, New Jersey - Population 523,249
Warren County, New Jersey - Population 109,876
New Jersey State Government
In 1776, effected to take effect the first state constitution. The Governor was the one of the most powerful governorships in the nation. He is also commanderin-chief of the state's armed forces. New Jersey present Governor is Jon Corzine. This state is one of the few states that have no lieutenant governor. The state legislature consists of a 40-member senate and an 80-member general assembly. New Jersey state assembly members are elected to two-year terms. They have must be at least 21 years old and have been New Jersey residents for two years and district residents for a year. Municipal court judges are appointed by local governing bodies for three-year terms. In New Jersey highest court is Supreme Court. The Tax Court empowered to review local property tax assessments. The tax courts judges are hear appeals of tax decisions made by County Boards of Taxation.
New Jersey Parks
Appalachian National Scenic Trail - Maine to Georgia, CT,GA,MA,MD,ME,NC,NH,NJ,NY,PA,TN,VA,VT,WV: There are no fees. It is open continuously year-round. Delaware National Scenic River - HQ in Bushkill PA; the Delaware River forms the boundary between the states of, NJ,PA: There are no Entrance Fees to the park. Visit centre is OPEN 9:00 a.m. to 5:00 p.m. DAILY until Sunday November 1, 2009. OPEN weekends from Saturday, November 7 through Sunday, December 13, 2009. Ellis Island National Monument - NJ,NY: Fee is $12.00 for adult, $10.00 for Seniors 62 and over and $5.00 for Children 4-12 per day. Opening hours are 9:00 AM - 5:15 PM. Gateway National Recreation Area - Brooklyn, Queens & Staten Island, New York and Monmouth County, New Jersey, NY,NJ: There are no entrance fees. It is open year round from sunrise to sunset. Great Egg Harbor River - NJ: There is no fee. These areas open all year round and have different schedules of operation. Lower Delaware National Wild and Scenic River - PA,NJ: There is no "entrance fee" to this park. Morristown National Historical Park - Morristown, NJ: There are no fees. New Jersey Coastal Heritage Trail Route - the coastal and shore regions of New Jersey with headquarters in Newport, NJ: Some have seasonal parking fees. New Jersey Pinelands National Reserve - Southeastern New Jersey, NJ: There are no entrance fees. It is open at around year. Thomas Edison National Historic Site - West Orange, NJ: Entrance Fee is $7.00 par seven days. Opening hours are 9:00am - 5:00pm.