Nevada Rentals by Region
Nevada Information by Region
Nevada Information
Nevada State was located on western region of the United States. Nevada state is the largest state in United States. Nevada state capital is Carson City. Nevada ranks 7th in size among the 50 United States. The Nevada state total area is 286,352 sq km. The Nevada state total forest land is 4,130,000 hectares in 2002 estimation. Nevada is bordered on the north by Oregon and Idaho, east by Utah and Arizona, south and west by California. The total boundary length is 2,382 km. Nevada state climate is sunny and dry, with wide variation in daily temperatures. Most rain falls on the lee side of the Sierra Nevada Range. The normal daily temperature at Reno is 49°F. Nevada ranked was 35th in population in the US. Total population is 2,173,491 in 2002 estimation. Nevada remains one of the most sparsely populated states. Nevada had 331,844 Roman Catholics in 2000. Other major Protestant groups include Southern Baptists. Nevada state official language is English. The total agriculture income is $425 million of which $153 million was from crops and $271 million from livestock and animal products in 2001. Nevada industries is limited but diversified, producing communications equipment, pet food, chemicals, and sprinkler systems, among other products. Nevada State?s largest industries in 1998 were services, 40.7% of earnings.
Nevada Recreation, Culture and Attractions
Nevada recreation areas in Northern Nevada California National Historic Trail, Death Valley National Park, Great Basin National Park, Old Spanish National Historic Trail, Pony Express National Historic Trail. In Southern Nevada Ash Meadows National Wildlife Preserve, Bootleg Canyon Mountain Bike Park, Humboldt-Toiyabe National Forest, Mount Charleston and the Mount Charleston Wilderness, Spring Mountains and the Spring Mountains National Recreation Area and Lake Mead National Recreation Area. Nevada State has a rich and beautiful cultural and artistic history. Nevada State has historical sites and natural beauties are excellent reasons for Nevada travel, there are also some odd State of Nevada attractions that add to its appeal. Nevada attractions include Pyramid Lake, Lake Tahoe, Lake Mead, and Lehman Caves National Monument. Nevada State has 21 state parks and recreation areas, and the Great Basin National Park. There is Grand Canyon National Park is the 2nd most popular parks destination, with 18% of all parks visitors. In Nevada State have no major league professional sports teams. The basketball team at the University of Nevada-Las Vegas emerged as a national power in the late 1980s and early 1990s. Las Vegas has a minor league baseball team, the 51s, in the Triple-A Pacific Coast League.
Nevada Demographics
Nevada total population - 1,998,257
Nevada male population - 1,018,051
Nevada female population - 980,206
Nevada white population - 1,501,886
Nevada black population - 135,477
Nevada American Indian and Alaska Native - 26,420
Nevada Asian population - 90,266
Nevada Hispanic or Latino population - 393,970
Nevada School Information
The Nevada State Board of Education acts as an advocate and visionary for all children and sets the policy that allows every child equal access to educational services. Board of Education is provides the vision for a premier educational system and works in partnership with other stakeholders to ensure high levels of success for all in terms of job readiness. The total enrollment for fall 1999 in Nevada's public schools stood at 325,610. In 2000, 80.7% of Nevada residents age 25 and older were high school graduates and 18.2% had obtained a bachelor's degree or higher. Expenditures for public education in 2000/01 were estimated at $1,918,795.
Nevada State Symbols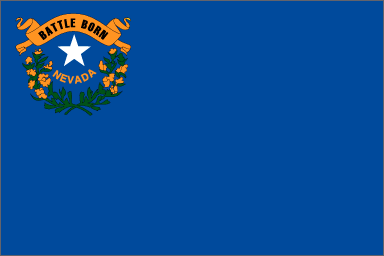 Nevada state flag
Nevada state Slogan
Battle Born
Nevada state Song
Home Means Nevada
Nevada state Reptile
Desert tortoise
Nevada state Fossil
Shonisaurus
Nevada state Mammal
Desert Bighorn Sheep
Nevada state Fish
Lahontan cutthroat trout
Nevada state Flower
Sagebrush
Nevada state Motto
All for our country
Nevada state Tree
Bristlecone Pine
Nevada state Soil
Orovada
Nevada state Bird
Mountain Bluebird
Nevada state Insect
Vivid dancer damselfly
Nevada History
On 1770s Nevada State was many Spanish explorers who came near the Nevada area, but it wasn't until 50 years later that fur traders venturing into the Rocky Mts. publicized the region. It must have been by the Spanish in the southernmost portion of our state, possibly as early as 1776. In 1821 Mexico won its war of independence from Spain and gained control over all the former Spanish territory in the area of what is now our "Southwest". Most of the Mormons in western Nevada departed in 1857, when Salt Lake City was threatened by an invasion of federal troops. A separate Nevada Territory was established in 1861 only three years later, on 31 October 1864, Nevada achieved statehood. The lode's rich ores were exhausted in the late 1870s, and Nevada slipped into a 20-year depression. Nevada's economy revived following new discoveries of silver at Tonopah and gold at Goldfield early in the 20th century. The lode's rich ores were exhausted in the late 1870s, and Nevada slipped into a 20-year depression. During the early 1900s, new mines near Tonopah discovered silver. Gold was found in Goldfield and copper near Ruth and Mountain City. Nevada was made famous by the discovery of the fabulous Comstock Lode in 1859 and its mines have produced large quantities of gold, silver, copper, lead, zinc, mercury, barite, and tungsten. Oil was discovered in 1954. In the first half of the 1990s, Nevada was once again the nation's fastest growing state. The gaming economy has also caused an increase in social problems.
Nevada Tourist Information
During the late 1900s, tourism remained the largest industry in Nevada, employing over 228,000 people. The gaming industry had total revenues of about $9.4 billion in 2002. Nevada?s tourism department is responsible for promoting and marketing Nevada as a tourism and travel destination. A director appointed by the governor directs and supervises all tourism department operations in Nevada State. Nevada tourism attractions include Pyramid Lake, Lake Tahoe, Lake Mead, and Lehman Caves National Monument. The tourism operation is funded entirely by the hotel and motel room tax paid by visitors to Nevada, not by resident taxpayers.
Nevada Transportation
Nevada had three major transportation and trade centers. There are Public roads include primary and secondary highways as well as municipal and rural roads. Two of the federal highways are part of the interstate system. The major highways, I-80 and I-15, link Salt Lake City with Reno and Las Vegas, respectively. Two major freight railroads cross the Nevada state. Additionally, a four mile monorail system provides public transportation in the Las Vegas area. Amtrak provides passenger service across northern Nevada en route from Chicago to Oakland. The Nevada state leading commercial air terminals are McCarran International Airport. It is located on Las Vegas and Reno-Tahoe International Airport.
Nevada Taxes
Nevada State Tax Rate Range Low 0.00% High 0.00%
Nevada State Tax Income Brackets Lowest flat rate - Highest flat rate
Nevada State Personal Exemptions Single - Married ? Dependents
Nevada State Sales Tax Rate on Food 6.5%, on Prescription Drugs 0%, on Non-prescription Drugs 0%
Nevada State Total Tax on Gasoline 24.055%, on Diesel Fuel 27.0%
Nevada State Excise Tax Rates on Cigarettes Tax Rate 80(¢ per pack)
Nevada State Beer Excise Tax Rate $0.16($ per gallon)
Nevada State Wine Excise Tax Rate $0.70($ per gallon)
Nevada Universities
University of Nevada-Reno - 16,663 Students
University of Nevada-Las Vegas - 27,912 Students
Great Basin College - 3,349 Students
Lincoln College of Technology - 116 Students
High-Tech Institute-Las Vegas - 587 Students
Pima Medical Institute - 554 Students
Truckee Meadows Community College - 11,556 Students
Heritage College - 264 Students
Sierra Nevada College - 761 Students
Career College of Northern Nevada - 241 Students
Nevada Religions
Roman Catholic ? 27%
Protestant
Mainline ? 11%
Evangelical ? 13%
Other Protestant ? 2%
Latter-day Saint/ Mormon ? 11%
Muslim ? 2%
Jewish ? 1%
Other Religions ? 1%
Unaffiliated ? 20%
Nevada Counties
Carson City, Nevada - Population 52,457
Churchill County, Nevada - Population 23,982
Clark County, Nevada - Population 1,375,765
Douglas County, Nevada - Population 41,259
Elko County, Nevada - Population 45,291
Esmeralda County, Nevada - Population 971
Eureka County, Nevada - Population 1,651
Humboldt County, Nevada - Population 16,106
Lander County, Nevada - Population 5,794
Lincoln County, Nevada - Population 4,165
Lyon County, Nevada - Population 34,501
Mineral County, Nevada - Population 5,071
Nye County, Nevada - Population 32,485
Pershing County, Nevada - Population 6,693
Storey County, Nevada - Population 3,399
Washoe County, Nevada - Population 339,486
White Pine County, Nevada - Population 9,181
Nevada Government
Nevada state 1864 constitution, as amended, continues to govern the Nevada state. The Nevada state present Governor was Jim Gibbons. The Nevada state legislature consists of a senate with 21 members, each elected to a four-year term, and a house of representatives with 42 members, each serving two years. Executive officials elected statewide include the governor and lieutenant governor. Candidates for governor must be at least 25 years old and must have been a citizen and resident of the state for at least two years prior to election. Voters must be US citizens, at least 18 years old, continuous state residents, and county residents for at least 30 days and precinct residents for at least 10 days prior to Election Day. Nevada's Supreme Court consists of a chief justice and six other justices. All judges are elected by nonpartisan ballot to six-year terms.
Nevada Economy
The Nevada gross product was $126 billion in 2010. The Nevada half of the income is based on tourism and gambling. The Nevada economy is also based on agriculture, manufacturing and mining. The Nevada agricultural live stocks are cattle, sheep, hogs and wool and agricultural crops are hay, alfalfa seed, mint, potatoes and garlic. The Nevada's manufacturing outputs are printed items, concrete, machinery, chemicals and plastics. The mined outputs of Nevada are gold, silver, diatomite, barite, clays, limestone, carbonate, oil, gypsum, copper and sand and gravel. Las Vegas and Reno are the main areas of Nevada and the services are community, amusement, recreational, finance, real estate, wholesale, retail and data processing. The Nevada manufactures are also gaming technology, aerospace tools, lawn, garden devices, and seismic observed tools.
Nevada Parks
California National Historic Trail - Various States, CA,CO,ID,KS,MO,NE,NV,OR,UT,WY: There are no fees for visiting the national historic trails, but some trail resources and sites are on federal lands managed by other agencies that do collect these fees. Death Valley National Park - Death Valley, CA,NV: Entrance Fees for commercial vehicles are based on the capacity of the vehicle. Open Daily at 8:00 a.m. to 5:00 p.m. Great Basin National Park - Baker, NV: Great Basin National Park has no entrance fee. open daily, year round, from 8:00 a.m to 4:30 p.m. Pacific Time. Extended hours in the summer. Lake Mead National Recreation Area - the Mojave Desert, AZ,NV: Entrance fees are for entrance into Lake Mead National Recreation Area. The Lake Mead Visitor Center is open from 8:30 a.m. to 4:30 p.m. every day except Thanksgiving, Christmas and New Years Day. Old Spanish National Historic Trail - AZ,CA,CO,NV,NM,UT: There are no user or entry fees. Pony Express National Historic Trail - Various States, CA,CO,KS,MO,NE,NV,UT,WY: Entrance and parking fees may be charged at some locations and hours vary at the discretion of the site administrator.