Boston Area Apartment Rentals by Area
Boston Area Neighborhood Information by Area
Quincy History
The commanding Massachusetts sachem or local American chief Chickatawbut inhabited in a Squantum, a hill located in east of Neponset River before the arrival of the English settlers. The settlers establish the area proper for farming, as Chickatawbut and his group, who used the name Passonagessit for the area, had clean much of the land of trees. This settlement was named Mount Wollaston in integrity of the leader, who soon after 1625 left the area sure for Virginia. Upon the leaving of Wollaston, Thomas Morton took over control of the post and the settlement proceeded to increase a status for debauchery with native women and drunkenness. Quincy city was first combined as part of Dorchester in 1630 and it was briefly captured by Boston in 1634. In 1792 the Quincy was formally incorporated as a distinct town named for John Quincy. Old Colony Railroad started in 1845 by the Massachusetts Historical Commission stated that the railroad was the opening of a trend to suburbanization. Quincy's population was grown by over 50% through the 1920s. Quincy granite became famous during the nation, and stonecutting became the city's principal economic movement. Quincy was also home to the first iron furnace in the United States, the John Winthrop, Jr. Iron Furnace Site from 1644 to 1653. The city educational was developed by Francis W. Parker. He is an early supporter of progressive education put his ideas into practice in the city's underachieving schools. Quincy is one of the shipbuilding centers in United States. Quincy is also home to longest running Flag Day parade in United States. Quincy was also a flying pioneer thanks to Dennison Field. It is located in the Squantum unit of city it was one of the world's first airports and was partly developed by Amelia Ear hart.
Quincy Residents and Culture
Quincy Population information
Quincy Total Population - 91,073
Quincy Total Male Population - 43,396
Quincy Total Female Population - 47,677
Quincy Irish Population is 34.2%
Quincy Italian Population is 13.5%
Quincy English Population is 7.5%
Quincy German Population is 4.8%
Quincy French Population is 3.3%
Quincy Polish Population is 2.9%

Quincy Ethnic information
Quincy White Population - 63,874 or 69.9%
Quincy Black Population - 3,387 or 3.7%
Quincy Hispanic Population - 2,791 or 3.1%
Quincy asian Population - 20,303 or 22.2%
Quincy Two or more races Population - 1,335 or 1.5%
Quincy Other race Population - 138 or 0.2%
Quincy american Population - 131 or 0.1%

Quincy Religious information
Quincy Catholic Chruch Population - 79%
Quincy Mainline Denominations Population - 8%
Quincy Others Population - 13%

Quincy Education/schools/colleges/Students
Quincy College Students - 1,707
Eastern Nazarene College Students - 996
Mansfield Beauty Schools Students - 54
Massachusetts School of Barbering Students - 34
NORTH QUINCY HIGH Students - 1511
QUINCY HIGH Students - 139
THE WOODWARD SCHOOL Students - 145
AL-NOOR ACADEMY HIGH Students - 69
LINCOLN-HANCOCK COMM SCH Students - 579
CENTRAL MIDDLE Students - 564
ATLANTIC MIDDLE Students - 511
CLIFFORD H MARSHALL ELEM Students - 474
SNUG HARBOR COMM SCHOOL Students - 402
BEECHWOOD KNOLL ELEM Students - 344
POINT WEBSTER MIDDLE Students - 335
CHARLES A BERNAZZANI ELEM Students - 335
BROAD MEADOWS MIDDLE Students - 309
MERRYMOUNT Students - 309
ST MARY SCHOOL Students - 150
MONTESSORI SCHOOL OF QUINCY Students - 127
GREATER QUINCY CHILD CARE CENTER Students - 88
WOLLASTON CHILD CARE CENTER Students - 86
KIDS CONNECTION LEARNING CENTER Students - 68
MUTANAFISUN ACADEMY Students - 58
CAMPUS KINDER HAUS Students - 51
JACK N JILL KINDERGARTEN & CHILD CARE CENTER Students - 33
BRIGHT HORIZONS CHILDRENS CENTER Students - 23

Quincy Attractions
Quincy Historical Society
Eastern National
Boston Step On Tours
Don Quijote Tours of New England

Quincy Libraries
Adams Shore Branch THOMAS CRANE PUBLIC LIBRARY
North Quincy Branch Library Thomas Crane Public Library
Wollaston Branch Thomas Crane Public Library
Anselmo Library
Nease Library


Quincy Area Flag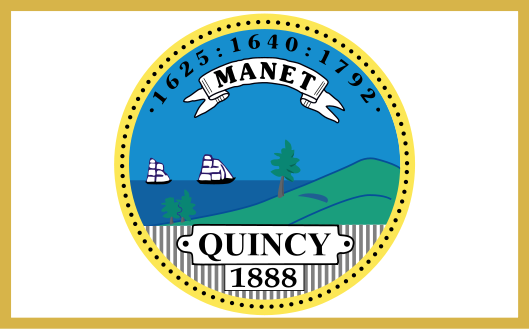 Quincy Transportation
The town of Quincy is provided with highway, water shuttle and the MBTA's Red Line. The stations of the MBTA's Red Line in town of Quincy are North Quincy, Wollaston, and Quincy Center and Quincy Adams stations. Bus transportation is frequent in Quincy. The Harbor Express commuter ferry service is offered in Quincy. This service is quite popular. The state highways and interstate system are easily accessible from the city of Boston. Route 3A, Route 53 and Route 28 are state highways linking the town of Quincy. I-93 Furnace Brook Parkway connects heart of the city West Quincy to Quincy Center and Merrymount at Quincy Bay. The Boston's Logan International Airport can be reached by MBTA Red Line, motor vehicle from Interstate 93 and surface roads. Amtrak intercity lines are used majorly. Quincy Center station is considered as the chief core for the south of Boston MBTA bus lines.
Quincy Movie theaters
Amc Braintree 10, 121 Grandview Rd, Braintree, MA
Childrens Theater Workshop, 416 Bridge St, North Weymouth, MA
Harbor Light Mall Cinemas, 789 Bridge St, North Weymouth, MA
Oodua African Movie Ctr, 440 Blue Hill Ave, Boston, MA
CF Electric and Handyman Services, 79 wilson ave, Weymouth, MA

Quincy Parks
Kincaide Park
Adams National Historical Park
Saint Moritz Park
Shea Park
Cavanagh Stadium
Neponset River Reservation
Faxon Park
Battery March Park
Baxter Street Historic District

Quincy Recreation centers
Uphams Corner Community
Bird Street Community Ctr
Braintree Youth Soccer

Quincy Neighborhoods
Adams Shore neighborhood
East Milton (Railway Village) neighborhood
Germantown neighborhood
Hough's Neck (Houghs Neck) neighborhood
Merrymount (Merrymont) neighborhood
Montclair (Mont Clair) neighborhood
Norfolk Downs neighborhood
North Commons (North Common) neighborhood
North Quincy neighborhood
Post Island neighborhood
Quincy Center (Quincy Centre) neighborhood
Quincy Point (Quincy Pt) neighborhood
Rock Island neighborhood
Scott's Woods (Scotts Woods) neighborhood
Squantum (Marina Bay) neighborhood
West Quincy (W Quincy) neighborhood
Wollaston (Wollaston Hill) neighborhood

Quincy restaurants
Alfredo's Restaurant, 75 Franklin St, Quincy MA
Alumni Cafe, 708 Hancock St, Quincy MA
Amelia's, 305 Victory Rd, Marina Bay, N Quincy MA
Anna's Hungarian Kitchen, 258 Willard St, Quincy MA
Bad Abbot's, 1546 Hancock St, Quincy MA
Balducci's House of Pizza, 35 Billings Rd, Quincy MA
Barry's Deli, 1237 Hancock St, Quincy MA
Beachcomber, 797 Morrisey Blvd, Quincy MA
Beale Street Fish Market, 35 Beale St, Quincy MA
Blackboard Cafe, 1515 Hancock St, Quincy MA
Brigadoon's Restaurant & Tavern, 520 Washington St, Quincy MA
Buccini's Mister Sub, 64 Billings Rd, Quincy MA
Cafe De Paris, 93 Willard St, Quincy MA
Cagney's Restaurant & Pub, 214 Washington St, Quincy MA
Callahan's Tap, 296 Copeland St, Quincy MA
Captain Fishbones, 332 Victory Rd, Marina Bay, Quincy MA
Caralilly's Cafe, 27 Billings Rd, Quincy MA
Cathay Pacific Restaurant, 111 Hancock St, Quincy MA
Charlie Ng's Restaurant, 15 Copeland St, Quincy MA
The Chowder House, 97 Willard St, Quincy MA
City Cafe, 500F Falls Blvd, Quincy MA
The Clam Box, 789 Quincy Shore Dr, Quincy MA
Common Market Restaurants, 97 Willard St, Quincy MA
Craig's Cafe, 1354 Hancock St. Quincy MA
Custom House Restaurant, 125 Sea St, Quincy MA
Dairy Freeze, 635 Adams St. Quincy MA
Darby's Public House, 35 Washington St, Quincy MA
Darcy's Village Pub, 93 Willard St, Quincy MA
Dee Dee's Lounge, 297 Newport Ave, Quincy MA
Delaney's Pub, 35 Franklin St, Quincy MA
Early American Restaurant, 1054 Hancock St, Quincy MA
Egg & I Too, 853 Hancock St, Quincy MA
Finian's Restaurant & Pub, 1657 Hancock St, Quincy MA
The Fish 'n Chicken, 110 Willard St, Quincy MA
Fowler House Cafe, 1049 Hancock St, Quincy MA
The Four's, 15 Cottage Ave, Quincy MA
Quincy Dynasty, 49 Billings Rd, Quincy MA
Quincy Adams Restaurant & Pub, 62 Sumner St, Quincy MA
Quincy Food Club, 33 Cottage Ave, Quincy MA

Quincy Towns
Braintree, MA
Milton, MA
Weymouth, MA
Hingham, MA
Hull, MA
Randolph, MA
Holbrook, MA
Boston, MA
Brookline, MA
Dedham, MA
Winthrop, MA
Rockland, MA
Chelsea, MA
Canton, MA
Cambridge, MA

Quincy Politics
John Hancock
Brooks Adams

Quincy Geography
The boundaries of Quincy are surrounded by Boston to the north, (divided by the Neponset River), Randolph and Braintree to the south Milton to the west, and Weymouth (alienated by the Fore River) and Hull (maritime boundary connecting Quincy Bay and Hingham Bay) to the east. Previous to amalgamation "Mount Wollaston" while it was called traditionally, and as the "North Precinct" of Braintree later on. Next to the Neponset River in the north Quincy began usually and wrecked at the Fore River in the south. Wollaston Beach is the most significant Boston Harbor coast positioned on the western coastline of Quincy bark. The city has an entire area of 26.9 square miles (70 km2), of which 16.8 square miles (44 km2) are ground and 10.1 square miles (26 km2) are water. The whole area is 37.60% water, according to the United States survey department. Even though Quincy is principally metropolitan, 2,485 acres (3.9 sq mi; 10.1 km2) or completely 23 percent of its land area deceit inside the abandoned Blue Hills Reservation, a state park managed by the Massachusetts subdivision of preservation and amusement. This emergent expected area encompasses the southwestern segment of Quincy and includes the city's utmost position, 517 foot (158 m) Chickatawbut Hill. Other hills bounded by Quincy comprise Forbes Hill in Wollaston, Presidents Hill in Quincy midpoint and Penns mount in South Quincy.
Quincy Folklore
Henry Beston
John Cheever
Dick Dale
Bill Dana
Wilbert Robinson

Quincy People
Joseph Dunford
William Delahunt
John F. Keenan
John Hancock
Edmund Quincy
Josiah Quincy II
Josiah Quincy III
Samuel Miller Quincy

Quincy Economy
As an industrialized and heavy production center, Quincy has been recognized throughout its olden times in the 19th century by means of granite quarrying dominating service. In the 20th century shipbuilding at Fore River Shipyard and Squantum Victory Yard were expanding to eminence. Towards a number of large employers in the monetary services, indemnity and healthiness concern sectors of the financial system, a swing in spotlight include the modern decades. Quincy is the location of the numerous firms of the corporate center of operations which includes Boston monetary Data Services, the Stop & Shop superstore sequence. The leading provincial newspaper publishes the South Shore's Arbella reciprocal Insurance Company and The patriot Ledger. The State Avenue Corporation, Blue Cross Blue Shield, Harvard Pilgrim Health concern and Boston methodical are the additional offices, among the most important employers in Quincy. The TACV, nationalized ensign transporter airline of Cape Verde, has its United States commercial headquarters in Quincy. The inhabitants of Connecticut, Massachusetts, and Rhode Island are served by the Quincy organization.
Quincy Nickname
"City of Presidents", "City of Legends", "Birthplace of the American Dream"
Quincy Motto
Manet (Latin) "It Remains"
8/29/2011 jamie
Write Comment
post hurricane irene tree branch pickup
Now that hurricane irene has passed, Mayor Thomas Koch advised residents to leave tree branches and limbs curbside for pickup by the Park Department and Public Works.
Sublet.com is an apartment rental service that advertises apartments, sublets, subleases, roommates & houses for rent. Apartment rentals, sublets, subleases, roommates and potential renters have not been screened, verified or evaluated. Individuals utilizing this rental service to find apartments, sublets, subleases, roommates or tenants take full responsibility for their actions & understand that the owners of the site take no responsibility for any consequences of using this service

&copy Copyright Spyder Web Enterprises LLC, 1999 to present. All rights reserved.