Massachusetts Rentals by Region
Massachusetts Information by Region
Massachusetts State Information
The Commonwealth of Massachusetts is a state in the New England region of the northeastern United States. It is bordered by Rhode Island and Connecticut to the south, New York to the west, and Vermont and New Hampshire to the north; at its east lies the Atlantic Ocean. There are more than 6 million people living in Massachusetts. The majority of the population of Massachusetts is living in the Boston Metropolitan area. The eastern half of the Massachusetts state is made up of urban, suburban, and rural areas, while Western Massachusetts is mostly rural. Massachusetts is the most populous of the six New England states. It ranks third among U.S. states in GDP per capita.
Massachusetts Recreation, Culture and Attractions
Adams National Historical Park tells the story of four generations of the Adams family (from 1720 to 1927). Assabet River NWR, formerly referred to as the U.S. Army's Fort Devens Sudbury Training Annex, is a 2,230-acre parcel of land located approximately 25 miles west of Boston, and 4 miles west of the Eastern Massachusetts NWR Complex Headquarters. The Mid-State Hiking Trail traverses the park and provides easy access to this popular local hiking activity. TIn 1914, a trout fisherman named John Sullivan Scully gave his 148 acre property to the United States Government. This property was used to help establish the Berkshire National Fish Hatchery. This 82-acre natural lake boasts the Lake Dennison Recreation Area, offering picnic areas, hunting, hiking, campgrounds and a swimming beach managed by the Commonwealth of Massachusetts. Boston African American National Historic Site is comprised of the largest area of pre-Civil War black owned structures in the U.S.
Massachusetts Demographics
Massachusetts state total population - 6,497,967
Massachusetts state male population - 3,209,135
Massachusetts state female population - 3,288,832
Massachusetts state white population - 5,620,741
Massachusetts state black or African American population - 357,388
Massachusetts state American Indian and Alaska Native population - 12,995
Massachusetts state Asian population - 246,992
Massachusetts state Hispanic or Latino population - 448,359
Massachusetts School Information
Massachusetts is home to many well-known preparatory schools, colleges, and universities. There are more than 40 colleges located in the greater Boston area alone. Ten colleges and universities are located in the greater Worcester area. The University of Massachusetts (nicknamed UMass) is the five-campus public university system of the Commonwealth. The population of metropolitan Boston and Worcester, and of the Five Colleges area in Western Massachusetts, in particular, surges during the school year.
Massachusetts State Symbols
Massachusetts State nickname - Bay State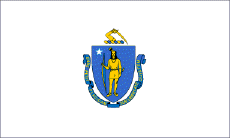 Massachusetts state flag
Massachusetts state Slogan
The Spirit of America
Massachusetts state Song
All Hail to Massachusetts
Massachusetts state Reptile
Garter snake
Massachusetts state Fossil
Dinosaur track
Massachusetts state Motto
By the sword we seek peace, but peace only under liberty
Massachusetts state Fish
Cod
Massachusetts state Flower
Mayflower
Massachusetts state Bird
Black-Capped Chickadee
Massachusetts state Tree
American elm
Massachusetts state Soil
Paxton Soil Series
Massachusetts state Ship
Schooner Ernestina
Massachusetts state Insect
Lady bug
Massachusetts state Shell
New England neptune
Massachusetts state Cat
Tabby cat
Massachusetts state Dog
Boston Terrier
Massachusetts state horse
Morgan horse
Massachusetts state Fruit
Cranberry
Massachusetts state Dance
Square dance
Massachusetts State History
The Commonwealth of Massachusetts was created in the late 1700s. Prior to English colonization of the area, it was inhabited by various indigenous tribes. The Commonwealth has no singular characteristic, geographic or cultural, that helps to distinguish it from the surrounding areas.
Massachusetts State Tourist Information
Massachusetts, a populous state with a land mass that crosses the breadth of the region, offers all the sensual delights and interesting features that are typical of New England. In terms of the outdoors, the Massachusetts state extends from the heavily forested Berkshire Mountains in the west to the delicate beaches and massive bluffs of Cape Cod to the east. Within these boundaries, outdoor fun encompasses everything from hiking and skiing and white water rafting in the Berkshires to strolling the downtown streets and ethnic enclaves of Boston to hopping aboard a whale-watching vessel in Gloucester or Provincetown.
Massachusetts State Transportation
The major airport in the Massachusetts state is Logan International Airport. The airport serves as a focus city for American Airlines, Delta Air Lines, US Airways, and JetBlue Airways. Interstate highways crossing the Massachusetts state include: I-91, I-291, I-84, I-93, I-95, I-495, I-195, I-395, I-90 (the Massachusetts Turnpike), I-290, and I-190 . The Massachusetts Bay Transportation Authority (MBTA) operates public transportation in the form of subway, bus and ferry systems in the Metro Boston area. Massachusetts has 10 regional metropolitan planning organizations and 3 non-metropolitan planning organizations covering the remainder of the Massachusetts state; statewide planning is handled by the Massachusetts Executive Office of Transportation.
Massachusetts Taxes
Massachusetts State Tax Rate Range Low 5.3% - High %
Massachusetts State Tax Income Brackets Lowest --Flat Rate-- - Highest --Flat Rate--
Massachusetts State Personal Exemptions Single - 4,125, Married - 8,250, Dependents - 1,000
Massachusetts State Sales Tax Rate on Food 4%, on Prescription Drugs 0%,on Non-prescription Drugs 4%
Massachusetts State Total Tax on Gasoline 21.0%, on Diesel Fuel 21.0%
Massachusetts State Excise Tax Rates On Cigarettes Tax Rate 151(¢ per pack)
Massachusetts State Beer Excise Tax Rate 0.11($ per gallon)
Massachusetts State Wine Excise Tax Rate 0.55($ per gallon)
Massachusetts Universities
Massachusetts Institute of Technology - 10,253 students
Amherst College - 1,648 students
Williams College - 2,079 students
Harvard University - 25,778 students
Wellesley College - 2,370 students
Franklin W. Olin College of Engineering - 296 students
Brandeis University - 5,313 students
Tufts University - 9,638 students
Smith College - 3,092 students
Boston College - 14,661 students
Massachusetts Religions
Catholic - 44%
Baptist - 4%
No Religion - 16%
Christian (no denomination specified) - 3%
Methodist - 2%
Lutheran - 1%
Presbyterian - 1%
Protestant - 4%
Pentecostal - 2%
Episcopal - 3%
Jewish - 2%
Church of Christ - 1%
Congregational/United Church of Christ - 3%
Jehovah's Witness - 1%
Buddhist - 1%
Other - 5%
Refused to Answer - 7%
Massachusetts Counties
Barnstable County, Massachusetts - Population 222,230
Berkshire County, Massachusetts - Population 134953
Bristol County, Massachusetts - Population 534678
Dukes County, Massachusetts - Population 14987
Essex County, Massachusetts - Population 723419
Franklin County, Massachusetts - Population 71535
Hampden County, Massachusetts - Population 456228
Hampshire County, Massachusetts - Population 152251
Middlesex County, Massachusetts - Population 456396
Nantucket County, Massachusetts - Population 9520
Norfolk County, Massachusetts - Population 650308
Plymouth County, Massachusetts - Population 472822
Suffolk County, Massachusetts - Population 689907
Worcester County, Massachusetts - Population 750963
Massachusetts State Government
The Constitution of the Commonwealth provided the form of Massachusetts government. The bicameral General Court is formed by Senate and House of Representatives which has the legislative power. Although, the governor will have the executive power, he will get this power only after the advice and consent from the Governor,s Council on certain subjects. The Attorney General and Secretary of the Commonwealth and several other officers are elected independently and they perform executive functions. The Supreme Judicial Court oversees the entire system of courts which has the judicial power. The local governmental bodies will oversee local issues with limited home rule authority granted to them by the Commonwealth. The capital of Massachusetts is Boston and Beacon Hill is the seat of power which is the home to legislative and executive branches. The Supreme Judicial Court is in the near Pemberton Hill.
Massachusetts Economy
In United State Massachusetts gross product was $365 billion in 2008. In 1880 the Massachusetts start the manufacturing and Massachusetts is become important state in the United State by manufacturing in the 19th century. Massachusetts rank is the 5th in the country for business in 2010 by CNBC's. Massachusetts economy also based on agriculture, tourism and mined products. Massachusetts has 13 Fortune 500 companies. The Massachusetts agriculture live stocks are cattle and calves, aquaculture and eggs and the agriculture crops are cranberries, sweet corn and apples. The manufacturing outputs of Massachusetts are Computer and electronic tools, communication devices, fabricated metals and chemicals. The most important mined outputs are clays and granite. Boston Port is biggest for foreign trading in Massachusetts State. In 2008 the Massachusetts became 3rd position in the U.S by the personal income.
Massachusetts Parks
Boston National Historical Park is the site of the first major battle of the American Revolution. You can learn about the events that led to the American Revolution and the Navy that kept the nation strong. Fees will be collected at some private sites owned by self supporting associations with the park. There is no fee at the federally owned sites. At Minute Man National Historical Park you can learn about battlefields and structures associated with April 19, 1775, and witness the American revolutionary spirit. A fee of $5.00 for adults and Free for people 16 years and under and Group tours $4.00 per person at Wayside House Tours. There is no fee to see The Road to Revolution. Groups of 15 people or more must make a reservation (this service is provided free of charge). Adams National Historical Park is about the Adams family. The site has the Birthplaces of 2nd U.S. President John Adams and 6th U.S. President John Quincy Adams, and Peacefield including the ?Old House?. Entrance fee is like General Admission for adults: $5.00, under 16 years of age, free. The Essex National Heritage Area is at just 10 miles north of Boston and covers 500 square miles of eastern Massachusetts to the New Hampshire border. The Area has hundreds of historical sites, miles of intact landscapes, coastal regions and experiences that display the history of our region and of our nation. The Blackstone River runs from Worcester, MA to Providence, RI. Its waters powered the Slater Mill in Pawtucket, RI, America's first successful textile mill. Blackstone River Valley is a special type of National Park containing thousands of natural and historic treasures. No admission fees are charged to visit the Heritage Corridor or to attend most of the regular programs. But, non-profit historical and environment sites do charge admission or accept donations for special events and programs.