Maryland Rentals by Region
Maryland Information by Region
Maryland Information
Maryland is located on eastern seaboard of the US. In size wise the Maryland rank is 42 among the 50 states. Maryland was the seventh state to ratify the United States Constitution. Maryland state total area is 27,092 sq km. Mayland bordered on the North by Pennsylvania, on the East by Delaware and the Atlantic Ocean, on the south by Virginia and west by West Virginia. Maryland state total forest land is 1,139,000 hectares. Forest land is covered about 40% of the Maryland state's land area. In population wise Maryland state rank is 18. In 2002 estimation, Maryland total population is 5,458,137. The Maryland state's population doubled between 1940 and 1970 and increased 7.5% between 1970 and 1980. The Maryland state population is projected to reach 5,467,000 by 2005 and 6.3 million by 2025. Maryland state was founded as a haven for Roman Catholics. The Maryland state's first Lutheran church was built in 1729. Maryland official language is English. In 2000, 4, 322,329 residents, or 87% of the population five years old or older spoke only English at home. The record high temperature for the Maryland state is 43°C. Maryland has a wide array of climates for a state of its size. Maryland state is 36th ranked among the 50 states in agricultural income in 2001. Until the Revolutionary War, tobacco was the Maryland's only cash crop.
Maryland Recreation, Culture and Attractions
Maryland has Appalachian culture, the Southern and Eastern Shore regions of Maryland emulate a Southern culture. Maryland's see food festival is famous. There are celebrated with tradition, with music, great food, exhibits, arts and crafts, and featuring The Capital,s Crab Soup Cook-off on September 12th. The Western Maryland to the Inner Harbor of Baltimore, sailing in Annapolis to the monuments of our Nations Capital, across the Chesapeake Bay and to the beaches of Ocean City. Attractions include parks, historical sites, and national seashore. Maryland capital is Annapolis. Maryland state is the site of the US Naval Academy. Ocean City is the Maryland state's major seaside resort, and there are many resort towns along Chesapeake Bay. Maryland state has two major league professional sports teams. There are several minor league baseball teams in Maryland, including teams in Bowie, Frederick, Delmarva, and Hagerstown. The official state sport of Maryland, since 1962, is jousting; the official team sport since 2004 is lacrosse. The Maryland state championship is held in October.
Maryland Demographics
Maryland total population - 5,296,486
Maryland male population - 2,557,794
Maryland female population - 2,738,692
Maryland white population - 3,391,308
Maryland black population - 1,477,411
Maryland American Indian and Alaska Native - 15,423
Maryland Asian population - 210,929
Maryland Hispanic or Latino population - 227,916
Maryland School Information
Maryland State Education of Department is observing the state public, primary and secondary education in Maryland. Each county and county-equivalent in Maryland has a local Board of Education charged with running the public schools in that particular jurisdiction. The total enrollment for fall 1999 in Maryland's public schools stood at 846,582. Maryland state has a history of success in Education Week,s annual review of state education systems. The Maryland's public four-year institutions include the University of Maryland System, Morgan State University, and St. Mary's College of Maryland. The Maryland Higher Education Commission serves as the state's agency that provides, as part of its primary mission, coordination, regulatory oversight, and program approval for Maryland's postsecondary education system. The first and largest public university in the Maryland state is the University of Maryland, College Park. The majority of public universities in the Maryland state are affiliated with the University System of Maryland.
Maryland Symbols
Maryland State nickname - Old Line State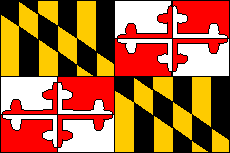 Maryland state flag
Maryland state Slogan
More Than You Can Imagine
Maryland state Song
Maryland, My Maryland
Maryland state Reptile
Diamondback Terrapin
Maryland state Fossil
Ecphora gardnerae
Maryland state Motto
''atti Maschii, Parole Femine'' Manly Deeds, Womanly Words
Maryland state Fish
Rockfish (Striped Bass)
Maryland state Flower
Black-eyed susan
Maryland state Bird
Baltimore oriole
Maryland state Tree
White oak
Maryland state Soil
Sassafras
Maryland state Ship
Skipjack
Maryland state Insect
Baltimore Checkerspot Butterfly
Maryland state Dinosaur
Astrodon
Maryland state Cat
Calico cat
Maryland state Dog
Chesapeake Bay Retriever
Maryland state horse
Thoroughbred
Maryland History
Maryland was inhabited by Indians as early as circa 10,000 B.C. Permanent Indian villages were established by circa A.D. 1000. In 1500s Giovanni da Verrazano, an Italian explorer was the first European to visit the Chesapeake. Later came English settlers, who left England for more economic opportunities and to escape religious oppression. Maryland began as a colony when King Charles I promised George Calvert, the first Lord Baltimore, a colony north of Virginia. Colonists set sail on November 22, 1633 on the ships Ark and Dove. In 1767 the demarcation of the Mason-Dixon Line ended a long-standing boundary dispute with Pennsylvania. In 1788, the United States Constitution was signed. Maryland state became the 7th state to join the new country, with Annapolis as the state capital. In 1861 the civil war is began. Throughout the war Maryland was the scene of many minor battles and skirmishes. The years after World War I saw the emergence of a political figure without equal in Maryland's more recent history. With the end of the Civil War, industry quickly revived and became a dominant force in Maryland, both economically and politically. After World War II, Maryland improved its transportation systems also. Maryland changed the fastest of all the southern states by integrating schools and neighborhoods.
Maryland Tourist Information
Tourism is an important element in the economy of the Maryland. In 2001, the Maryland state hosted over 19.4 million travelers. The Maryland attractions are parks, historical sites, and national seashore, Annapolis, the state capital, is the site of the US Naval Academy. There are 19 state parks with camping facilities and 10 recreation areas. On Baltimore's waterfront are monuments to Francis Scott Key and Edgar Allan Poe, historic Ft. McHenry, and many restaurants serving the city's famed crab cakes and other seafood specialties. St Mary's is now a historical site, with a small tourist center. The Office of Tourism promotes such historical attractions as the Civil War, War of 1812, and National Road.
Maryland Transportation
Maryland improved its transportation systems after World War II. Maryland state has several auxiliary Interstate highways. Maryland also has a state highway system that contains routes numbered from 2 through 999. BWI Airport opened and many bridges, tunnels, and highways were built. Maryland's largest airport is Baltimore-Washington International Thurgood Marshall Airport. The Washington Metro subway and bus system serve Montgomery County and Prince George's County. Total travel expenditures for 2001 were about $8.5 billion, which included support for about 105,400 travel-related jobs.
Maryland Taxes
Maryland State Tax Rate Range Low 2.0 %- High 5.5%
Maryland State Tax Income Brackets Lowest flat rate 1,000 - Highest flat rate 500,000
Maryland State Personal Exemptions Single -2,400, Married - 4,800, Dependents - 2,400
Maryland State Sales Tax Rate on Food 6%, on Prescription Drugs 0%, on Non-prescription Drugs 0%
Maryland State Total Tax on Gasoline 23.5%, on Diesel Fuel 24.25%
Maryland State Excise Tax Rates on Cigarettes Tax Rate 200(¢ per pack)
Maryland State Beer Excise Tax Rate $0.09($ per gallon)
Maryland State Wine Excise Tax Rate $0.40($ per gallon)
Maryland Universities
Johns Hopkins University - 19,708 Students
United States Naval Academy - 4,479 Students
University of Maryland-College Park - 35,102 Students
Loyola College in Maryland - 6,035 Students
St Mary's College of Maryland - 1,957 Students
Washington College - 1,415 Students
Maryland Institute College of Art - 2,201 Students
Goucher College - 2,310 Students
University of Maryland-Baltimore County - 11,798 Students
McDaniel College - 3,671 Students
Maryland Religions
Protestant - 56%
Roman Catholic - 23%
Jewish - 4%
Baptist - 18%
Methodist - 11%
Lutheran - 6%
Other Protestant - 21%
Other Christian - 3%
Other Religions - 1%
Non-Religious - 13%
Maryland Counties
Allegany County, Maryland - Population 73,639
Anne Arundel County, Maryland - Population 510,878
Baltimore County, Maryland - Population 786,113
Baltimore City, Maryland - Population 641,943
Calvert County, Maryland - Population 86,474
Caroline County, Kansas- Population 29,772
Carroll County, Maryland - Population 150,897
Cecil County, Maryland - Population 97,796
Charles County, Maryland - Population 120,546
Dorchester County, Maryland - Population 30,674
Frederick County, Maryland - Population 220,701
Harford County, Maryland - Population 218,590
Howard County, Maryland - Population 269,457
Kent County, Maryland - Population 19,197
Montgomery County, Maryland - Population 927,583
Prince George's County, Maryland - Population 846,123
Queen Anne's County, Maryland - Population 40,563
Saint Mary's County, Maryland - Population 86,211
Somerset County, Maryland - Population 24,747
Talbot County, Maryland - Population 33,812
Washington County, Maryland - Population 143,748
Wicomico County, Maryland - Population 84,644
Worcester County, Maryland - Population 46,543
Maryland State Government
Maryland's first state constitution was enacted in 1776. Maryland government is divided into three branches: executive, legislative, and judicial. Legislative sessions begin the 2nd Wednesday of January of each year and are limited to 90 calendar days. The Maryland state government is All legislators serve four-year terms and must have been residents of the state for at least a year and of their district for at least six months prior to election. The governor, who may serve no more than two four-year terms in succession, also appoints other members of the executive council and the heads of major boards and commissions. The court of appeals, the Maryland state's highest court, comprises a chief judge and six associate judges. Maryland voters must be US citizens, 18 years old, and state residents. Maryland is a Democratic Party stronghold, perhaps its best known political figure is a Republican. County government is highly developed in Maryland, and there are numerous appointed county officials with responsibilities ranging from civil defense to liquor licensing.
Maryland Economy
Maryland is the moneyed state in United State and the gross product was $69,272 in 2009 by Census Bureau. In the colonial period Maryland income was depending on tobacco. Agriculture is the main income of Maryland. The agriculture live stocks are broilers, cattle, eggs, hogs and turkeys and the agriculture crops of Maryland are corn, soybeans, wheat, hay, barley, sweet corn and tomatoes. In 1820 the Maryland industry was grown and the manufacturing outputs are Computer and electronic tools, food dispensation, Chemical manufacturing. Maryland is a greatest food dispensation sector and fishing is the large state. The Maryland port rank was 17th in the nation. Coal is the main mined source in Maryland other outputs are crushed stone, limestone, marble, sand, gravel, natural gas and clay. The Maryland importation items are motor vehicles, raw materials, iron, petroleum, sugar, and fertilizers. The Maryland economy is based on tertiary services they are finance, real estate, business and Community.
Maryland Parks
Antietam National Battlefield - Sharpsburg, MD: Entrance fee is $4.00 Per Person, $6.00 Per Family. Opening hours is January 1 2009-May 21 from 8:30 AM-5:00 PM, May 22, 2009-September 7 from 8:30 AM-7:00 PM, September 8, 2009 - October 3 from 8:30 AM-6:00 PM, October 4, 2009 -December 31 from 8:30 AM-5:00 PM. Appalachian National Scenic Trail - Maryland to Georgia, CT,GA,MA,MD,ME,NC,NH,NJ,NY,PA,TN,VA,VT,WV: There are no entrance fee. Assateague Island National Seashore - MD,VA: Open year round, 24 hours a day. Baltimore-Washington Parkway - Washington D.C. and Baltimore, Maryland, MD: There are no fees. It is open all the time. Captain John Smith Chesapeake National Historic Trail - Various States, VA,MD,DE,DC: In general, the Captain John Smith Chesapeake National Historic Trail is open continuously year-round. Catoctin Mountain Park - Thurmont, MD: The park is open all year from daylight until dark. Chesapeake & Ohio Canal National Historical Park - Potomac River, DC,MD,WV: The park is open during daylight hours. Chesapeake Bay Gateways Network - Chesapeake Bay Watershed, DC,MD,NY,PA,VA,WV: Each of the parks, refuges, water trails and more of the Chesapeake Bay Gateways Network have their own hours of operation. Clara Barton National Historic Site - Glen Echo , MD: There is no admission charge to visit. Opening hours 10:00 AM, 11:00 AM, Noon, 1:00 PM, 2:00 PM, 3:00 PM and 4:00 PM. Fort Foote Park - Oxon Hill, MD: There is no fee. Park is open 9:00 a.m. to sunset. Fort Washington Park - Fort Washington, MD: Basic entrance fee is $5.00per private vehicle. $3.00 per individual vehicle. The park grounds are open 8:00-sunset at all times. George Washington Memorial Parkway - DC, MD, VA: There is no entrance fee. The Parkway is open year round. Glen Echo Park - Glen Echo, MD: The grounds of Glen Echo Park are open daily from 6 a.m. to 1 a.m. Greenbelt Park - Greenbelt, MD: The campground fee is $16.The park is open from dawn to dusk each day of the year. The Sweetgum unreserved Picnic Area gate is open by 8:00 a.m. and closes at dusk. Hampton National Historic Site - Towson, MD: There is no entrance fee. Opening hours daily, 9 a.m. - 4 p.m.Harmony Hall - Prince George's County, MD: There is no entrance fee. Monocacy National Battlefield - Frederick, MD: Currently there are no entrance fee. The Monocacy National Battlefield Visitor Center is open daily, 8:30 a.m.-5:00 p.m. Piscataway Park - Accokeek., MD: Fees is $.50 per child and $5.00 per family.