Maine Rentals by Region
Maine Information by Region
Maine State Information
The Maine state is located on northeastern corner of the US. It is the northernmost portion of New England and is the easternmost state in the contiguous United States. Maine is the nation's most easterly state. The total area of the Maine state is 86,156 sq km. In the size wise the Maine state rank is 39th among the 50 states. Maine is bordered on the north by the Canadian provinces of Quebec, east by New Brunswick, south by the Atlantic Ocean and west by New Hampshire. In population wise the Maine state rank is 40th in the US. The total forest area in Maine is 7.2 million hectares in the 2002 estimation. The Maine state total population is 1,294,464 in 2002 estimation. The population density in 2000 was 41.3 persons per sq mi. Almost half of Maine's population is classified as urban; much of the urban population lives in towns and small cities. The Maine has about 283,024 Roman Catholics and an estimated 8,290 Jews in 2000. The Muslim community had about 800 members. The Maine state has American Baptists also. In 2000 estimated, 92.2% of Maine residents five years old or older reported speaking only English in the home. They speak French language other than English. In Maine third most spoken language is Spanish. The Maine state has humid continental climate. The annual mean temperature in the northern zone is about 5°C, southern interior zone 7°C, in the coastal zone 8°C. Maine's agriculture and food processing industries contribute over $1 billion annually to the Maine state's economy. Maine's gross farm income in 2001 was $485 million. Fishing is also has been important to the economy of Maine since its settlement. The most valuable Maine fishery product is the lobster.
Maine Recreation, Culture and Attractions
The Maine state is bordering the Atlantic Ocean to the southeast, New Hampshire to the southwest. Maine is the northernmost portion of New England and is the easternmost state in the contiguous United States. The Maine state has the second largest percentage of French-ancestry Americans in the nation. The Maine state makes the most of its coastal scenery and beauty. Maine,s largest agricultural festival is Fryeburg Fair. There are 12 state parks and beaches. Baxter State Park, in central Maine, includes Mount Katahdino. Acadia National Park is a popular attraction, along with other wildlife areas, refuges, and forests. Maine has always attracted hunters, especially during the fall deer season. The Maine state fair is held at Bangor. The Maine Lobster Festival in August features a 10 km race and a Sea Goddess Pageant. Portland offers a historic ride aboard its Narrow Gauge Railroad, while Augusta,s prime attractions include the Old Fort Western. The Maine state has no major league professional sports team. The minor league hockey team Portland Pirates of the American Hockey League play on their home ice at the Cumberland County Civic Center in Portland. Minor league baseball's Sea Dogs of the Double-A Eastern League play their games at Hadlock Field, which opened in 1994. The Maine state professional sports teams are Lewiston Maineiacs, junior hockey, Quebec Major Junior Hockey League, Maine Red Claws, basketball, NBA Development League, Portland Pirates, minor league hockey, American Hockey League and Portland Sea Dogs, minor league baseball, Eastern League.
Maine Demographics
Maine total population - 1,274,923
Maine male population - 620,309
Maine female population - 654,614
Maine white population - 1,236,014
Maine black population - 6,760
Maine American Indian and Alaska Native - 7,098
Maine Asian population - 9,111
Maine Hispanic or Latino population - 9,360
Maine School Information
In 1999 estimated the Maine state total public schools enrollment is 209,253. The Maine School Administrative District is the third type of the school department. This is a regional school district that incorporates two or more towns into one school department with one high school and middle school. The elementary schools usually cut off after grade 5 or grade 6. The Maine state has Maine School of Science and Mathematics it is located on Limestone. It is the major school of the state. Non public schools enrollment is 18,287 in 2001 estimation. In 1997, minority students comprised 4.5% of total postsecondary enrollment.
Maine State Symbols
Maine State nickname - Pine Tree State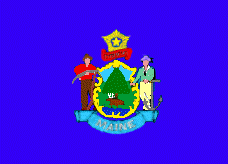 Maine state flag
Maine state Slogan
The Way Life Should Be
Maine state Song
State of Maine Song
Maine state Mammal
Moose
Maine state Fossil
Pertica Quadrifaria
Maine state Motto
Dirigo
Maine state Fish
Landlocked Salmon
Maine state Flower
White pine cone
Maine state Soil
Tanana
Maine state Bird
Black-capped chickadee
Maine state Tree
Eastern white pine
Maine state Soil
Chesuncook Soil Series
Maine state Fruit
Wild blueberry
Maine state Insect
Honeybee
Maine State History
In the year of 1524, first documented visit by a European to the Maine coast was that of Giovanni da Verrazano during his voyage. The first recorded attempts to found permanent colonies, by the French on an island in the St. Croix River in 1604 and by the English at Sagadahoc in 1607, both failed. English expeditions began fishing the Gulf of Maine regularly. The first grant of Maine lands was to Sir Ferdinando Gorges from the Council from New England. After 1622 two grantees divided their land at the Piscataqua River, and Gorges became sole proprietor of the "Province of Maine." There were permanent English settlements on several islands and at nearly a dozen spots along the coast. Maine became a district of Massachusetts with the issuance of a new royal charter in 1691. Maine became the 23rd state on March 15, 1820 through the Missouri Compromise. During the first hundred years of settlement, Maine's economy was based entirely on fishing, trading, and exploitation of the forests. After the Civil War, the revolution in papermaking that substituted wood pulp for rags brought a vigorous new industry to Maine. A citizen initiative set for referendum in November 2003 was to mandate a large increase in state assistance to local school systems. By 1900, Maine was one of the leading papermaking states in the US, and the industry continues to dominate the Maine state today. In 1999 Maine's economy turned in its best performance in more than a decade.
Maine State Tourist Information
Tourism is an important element in the economy of the Maine state. In 2001, the state of Maine hosted over 43 million travelers who spent about $5.6 billion dollars. In the summer, the southern coast offers sandy beaches, icy surf, and several small harbors for sailing and saltwater fishing. The region boasts a number of phenomenal wildlife areas in this Maine state. Maine has always attracted hunters, especially during the fall deer season. Wintertime recreation facilities include nearly 60 ski areas and countless opportunities for cross-country skiing. Seafront shops and restaurants add an unmistakable feel to the ambiance of the region. The Maine state has 12 state parks and beaches. Though Maine is a year-round resort destination, 59% of travelers arrive during the months of July, August, and September.
Maine State Transportation
In 1924, the state railroad development in Maine, which reached its peak. It has declined rapidly since World War II, and passenger service has been dropped altogether. Seasonal passenger excursions between Brunswick and Rockland are operated by the Maine Eastern Railroad. River traffic has been central to the lumber industry. Maine has 10 established seaports. Portland and Searsport being the main depots for overseas shipping. The eastern terminus of the eastern highway section of U.S. Route 2 starts in Houlton. The Maine state communities and about half the population depend entirely on highway trucking for the overland transportation of freight. Portland International Jetport is the largest and most active airport in Maine.
Maine Taxes
Maine State Tax Rate Range Low 2.0 %- High 8.5%
Maine State Tax Income Brackets Lowest flat rate 4,849 (b) - Highest flat rate 19,450 (b)
Maine State Personal Exemptions Single -2,850, Married - 5,700, Dependents - 2,850
Maine State Sales Tax Rate on Food 5%, on Prescription Drugs 0%, on Non-prescription Drugs 0%
Maine State Total Tax on Gasoline 27.6%, on Diesel Fuel 27.6%
Maine State Excise Tax Rates on Cigarettes Tax Rate 200(¢ per pack)
Maine State Beer Excise Tax Rate $0.35($ per gallon)
Maine State Wine Excise Tax Rate $0.60($ per gallon)
Maine Universities
Bowdoin College - 1,734
Colby College - 1,865
Bates College - 1,744
University of Maine - 11,797
College of the Atlantic - 339
University of New England - 3,379
Saint Joseph's College of Maine - 3,166
University of Maine at Machias - 1,259
University of Southern Maine - 10,478
University of Maine at Farmington - 2,421
Maine Religions
Christian - 82%
Protestant - 45%
Baptist - 16%
Methodist - 9%
Episcopalian - 8%
United Church of Christ - 8%
Pentecostal - 6%
Lutheran - 3%
Other Protestant or general Protestant - 10%
Roman Catholic - 37%
Other Christian - 1%
Other Religions - 1%
Non-Religious - 17%
Maine Counties
Androscoggin County, Maine - Population 103,793
Aroostook County, Maine - Population 73,938
Cumberland County, Maine - Population 265,612
Franklin County, Maine - Population 29,467
Hancock County, Maine - Population 51,791
Kennebec County, Kansas- Population 117,114
Knox County, Maine - Population 39,618
Lincoln County, Maine - Population 33,616
Oxford County, Maine - Population 54,755
Penobscot County, Maine - Population 144,919
Piscataquis County, Maine - Population 17,235
Sagadahoc County, Maine - Population 35,214
Somerset County, Maine - Population 50,888
Waldo County, Maine - Population 36,280
Washington County, Maine - Population 33,941
York County, Maine - Population 186,742
Maine State Government
The Maine state constitution may be amended by a two-thirds vote of the legislature and a majority vote at the next general election. The Maine state Constitution was structures Maine's state government, composed of three co-equal branches - the executive, legislative, and judicial branches. The judicial branch is responsible for interpreting state laws. The governor, who serves a four-year term and is limited to two consecutive terms, is the only official elected statewide. The governor must be at least 30 years old, a citizen of the US for at least 15 years, and a state resident for five years. The presiding officers of each house may jointly call for a special session as long as they have the support of a majority of members of each political party in each house. All legislators, who serve two-year terms, must have been US citizens for at least five years, residents of the Maine state for at least two years. The minimum age for representatives is 21, for senators it is 25. To vote in Maine, one must be a US citizen and at least 18 years old.
Maine Economy
In 2010 the Maine's gross product was $52 billion by the Bureau of Economic Analysis. Maine's economy is mainly based on manufacturing. The Maine's agriculture has effort with difficult soil and climatic circumstances and the agriculture outputs are eggs, milk, cattle, calves, hogs, sheep, Potatoes, corn, hay, oats, broccoli, dry beans, peas and blueberries. Maine export blueberries. In Maine the vast production is paper industry. The manufacturing outputs of Maine are paper, computer, electronic tools and transportation gears. Tourism and recreation also major part in Maine economy. Maine ports also including Maine's economy and the port useful for fishing and transportation. The mined outputs are sand, gravel, limestone, clays, garnet and gemstones. In 1980 the Maine services are play major part in the economy and services are financing, real-estate; wholesale, retail, business and community.
Maine Parks
Acadia National Park - Bar Harbor, ME: The Acadia National Park requires payment of an entrance fee. There is a fee for a few additional activities. This is open all year and information is available at park headquarters all year and at Hulls Cove Visitor Center from April 15 through October. Appalachian National Scenic Trail. Maine Acadian Culture - St. John Valley, ME: There is no entrance fee. Open daily at 12 to 5 p.m. from June 15 to September 15. Roosevelt Campobello International Park - Lubec , ME: There is no admission fee for the park. Open year round from 1/2 hour before sunrise to 1/2 hour after sunset. Saint Croix Island International Historic Site - Calais, ME: There is no cost for visitors to enter Saint Croix Island IHS. The site is open daily from sunrise to sunset.