New Orleans Area Information


New Orleans is a Louisiana's major port city in the United States. It is situated in southeastern Louisiana along the Mississippi River, just south of Lake Pontchartrain, and is coextensive with Orleans Parish. It is a metropolitan area in United States. The city has a population of 343,829 in 2010 estimation. New Orleans is also famed for its cuisine, music and its annual celebrations and festivals, most notably Mardi Gras. The city is regularly referred to as the "most unique" in America. New Orleans is named following the historical Duke of Orleans, Regent of France and is one of the oldest and most historic cities in the United States. The city is world-famous tourist destination in U.S. New Orleans remnants major port cities due to its place close to the Gulf of Mexico and along the Mississippi River, making it a center for goods which travel to and from Latin America. The Port of South Louisiana is based in the New Orleans metropolitan area and has been ranked the fifth major port in the world in terms of raw tonnage, and between the major U.S. ports for exporting speck. The New Orleans has many nicknames; they are "Crescent City", "The Big Easy" and "The City that Care Forgot".
New Orleans Area Rentals by Area More Cities
New Orleans Area Information by Area More Cities
Algiers Information
Bywater Information
Carrollton Information
Central Business District Information
Central City Information
Chalmette Information
English Turn Information
French Quarter Information
Garden District Information
Gentilly Information
Harvey Information
Kenner Information
Lakeview Information
Lower Ninth Ward Information
Marrero Information
Metairie Information
Mid-City Information
New Aurora Information
New Orleans East Information
Other Jefferson Parish Information
Other Orleans Parish Information
Other St. Tammany Parish Information
Plaquemines Parish Information
Slidell Information
St. Bernard Parish Information
Tangipahoa Parish Information
Terrytown Information
Uptown Information
Viavant-Venetian Isles Information
Village de Lest Information
Warehouse District Information
Washington Parish Information
New Orleans Area Recreation, Culture and Attractions
The culture of New Orleans has made Louisiana exclusive between and different from other cities in the United States, as well as other Southern U.S. cities. New Orleans in recent times has been described as organism not a Southern city but a Caribbean city. New Orleans people use the American English, with important variations, is the dominant language. The city culture is hard to know where to start when recitation the culture of New Orleans, possibly the most varied and strange in the United States. The unique meaning of Creole is a person of European descent, mainly French or Spanish, who was born in the New World. Some of this populace were freed previous to the Civil war and formed a unique culture. Their descendants give New Orleans a lot of its season. Louisiana as well became the home of the Acadians, French-speaking people who were barred from their homes in eastern Canada by the English. The city can't forget music, particularly jazz. Many of the most basic players were entertainers in houses of ill repute here. In many ways, the cultural feel of the city was formed by these people, and if they are not capable to arrival, much will have been lost. The city of New Orleans holds many festivals and annual events. The city is also a major tourist destination. It has number of visiting places. The city is home to Hornets, VooDoo, and many events that are not large enough to need the Superdome. The city has regularly hosted major sporting events that have no everlasting home, such as the Super Bowl, ArenaBowl, NBA All-Star Game, BCS National Championship Game, and the NCAA Final Four.
New Orleans Area Demographics
New Orleans total population - 354,850
New Orleans male population - 166,264
New Orleans female population - 188,586
New Orleans White population - 105,732
New Orleans Hispanic population - 16,812
New Orleans Asian population - 10,806
New Orleans Black population - 217,256
New Orleans Other race population - 969
New Orleans American population - 365

New Orleans Area Education
New Orleans Public Schools was one of the area's largest systems its name given to the city's public school system. The New Orleans provincial school system, which educated 40 percent of New Orleans' students, was also overwhelmed. Currently, the mainstream of public school students in the NOPS system attends these self-governing public contract schools, the highest percentage in the nation. The most new release of annual school performance scores established continued development in the academic performance of New Orleans' public schools. This ancient guide is changing, however, as the NOPS system is occupied in the most talented and far-reaching public school reforms in the nation, reforms intended at decentralizing power away from the pre-Katrina school board central administration to individual school principals and self-governing public charter school boards, monitoring contract school performance by surrendering renewable, five-year operating contracts permitting the finish of those not succeeding, and vesting option in parents of public schools students, allowing them to enroll their children in almost any school in the district.
New Orleans Area Symbols
New Orleans nick name - "The Crescent City", "The Big Easy", "The City That Care Forgot", "Nawlins" and "NOLA"
New Orleans Area Flag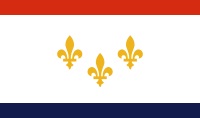 New Orleans Area History
The city of New Orleans history, Louisiana traces the city's growth from its establishing by the French, during its period under Spanish control, then back to French rule previous to being sold to the United States in the Louisiana Purchase. The city was formed May 7, 1718, by the French Mississippi Company, under the direction of Jean-Baptiste Le Moyne de Bienville, on land inhabited by the Chitimacha. Napoleon sold the country to the United States in the Louisiana Purchase in 1803. The Haitian Revolution of 1804 in what was then the French colony of St. Domingue recognized the second republic in the Western Hemisphere and the first led by blacks. Throughout the last campaign of the War of 1812, the British sent a power of 11,000 armed forces in an effort to imprison New Orleans. While a major port, New Orleans played a major role through the antebellum era in the Atlantic slave trade. Its port handled enormous quantities of supplies for export from the interior and imported goods from other countries, which were warehoused and then transferred in New Orleans to minor vessels and spread the extent and width of the vast Mississippi River watershed. The Union captured New Orleans near the beginning in the American Civil War, careful the city the obliteration suffered by lots of other cities of the American South. New Orleans reached its most important place as an economic and population center in relation to other American cities in the decades prior to 1860. In the middle of 19th century the city first the rising industrial and railroad hubs of the Midwest overtook the city in population, then the speedily rising metropolises of the Pacific Coast in the decades previous to and following the turn of the 20th century. New Orleans' economy was forever more of a trade-based, profitable entrepot than industrialized powerhouse, but the city's smallish industrialized sector also shrank in the post-World War II period. New Orleans became progressively more dependent on tourism as an economic support, arguably fatally so by the administrations of Sidney Barthelemy and Marc Morial. The city holds major annual events such as Mardi Gras and the Jazz & Heritage Festival were never displaced or cancelled.
New Orleans Area Tourism
New Orleans's tourism industry is playing a major role to the city's economy. The city is home to lots of major attractions, from the world-renowned French Quarter and Bourbon Street's notorious nightlife to St. Charles Avenue to Magazine Street, with its several boutique stores and antique shops. New Orleans is one of the top ten most visited cities in the United States. The city has 265 hotels with 38,338 rooms in the Greater New Orleans Area. In May 2007, there were over 140 hotels and motels in operation with over 31,000 rooms. According to present travel guides, Travel + Leisure poll of "America's Favorite Cities" ranked New Orleans first in ten categories, the most first-place rankings of the 30 cities included in the year of 2009. There is the Audubon Nature Institute as well as gardens that comprise Longue Vue House and Gardens and the New Orleans Botanical Garden. City Park, one of the country's most liberal and visited urban parks, has one of the major stands of oak trees in the world. There are also different points of importance in the neighboring areas.
New Orleans Area Transportation
The city's public transportation is managed by the New Orleans Regional Transit Authority. There are several bus routes linking the city and suburban areas. New Orleans appropriate is served by Interstate 10, Interstate 610 and Interstate 510. I-10 travels east-west through the city as the Pontchartrain Expressway. In the far eastern part of the city, New Orleans East, it is known as the Eastern Expressway. The city has Louis Armstrong New Orleans International Airport it is placed in the suburb of Kenner. Orleans also has several regional airports placed all over the metropolitan area. These incorporate the Lakefront Airport, Naval Air Station Joint Reserve Base New Orleans in the suburb of Belle Chasse and "Southern Seaplane", also situated in Belle Chasse. Southern Seaplane has a 3,200-foot runway for wheeled planes and a 5,000-foot water runway for seaplanes. The city is served by rail via Amtrak. The New Orleans Union Passenger Terminal is the central rail depot, and is served by three trains: the Crescent, operating between New Orleans and New York City; the City of New Orleans, operating between New Orleans and Chicago; and the Sunset Limited, operating through New Orleans between Orlando and Los Angeles. The city has many bridges. The tolled Crescent City Connection is perhaps the most famous. It provides as New Orleans' major bridge crossways the Mississippi River, as long as a connection among the city's downtown on the eastbank and its westbank suburbs.
New Orleans Area Taxes
New Orleans Sales Tax - 9%

New Orleans Area Universities
Loyola University New Orleans, New Orleans, Louisiana, United States - 4,858 Students
University of New Orleans, New Orleans, Louisiana, USA - 10,512 Students
Southern University at New Orleans, New Orleans, Louisiana, United States - 3,165 Students

New Orleans Area Tourist Attractions
New Orleans
Arena - New Orleans, Louisiana - Arena Aquarium of the Americas in New Orleans, Louisiana Astor Crowne Plaza- French Quarter, New Orleans
Audubon Aquarium of the Americas, New Orleans
Audubon Insectarium, New Orleans
Audubon Zoo in New Orleans, Louisiana Bienville House, New Orleans
Blaine Kern's Mardi Gras World, New Orleans
Bourbon Street, New Orleans
Cabildo, New Orleans
Chateau Bourbon- A Wyndham Historic Hotel, New Orleans
Chateau Dupre Hotel, New Orleans
City Park, New Orleans
Clarion Collection Queen and Crescent, New Orleans
Dauphine Orleans Hotel, New Orleans
French Market, New Orleans
French Quarter New Orleans
French Quarter Suites Hotel, New Orleans
Frenchmen Street, New Orleans
Gallier House, New Orleans
Harrah's Hotel and Casino, New Orleans
Hermann-Grima House, New Orleans
Hilton New Orleans Riverside, New Orleans
Historic French Market Inn, New Orleans
Hotel de L'Eau Vive, New Orleans
Hotel Maison de Ville & Audubon Cottages, New Orleans
Hotel Provincial New Orleans
Hotel Royal, New Orleans
Hotel St. Marie, New Orleans
Iberville Suites, New Orleans
International House Boutique Hotel, New Orleans
Jackson Brewery, shopping and dining in the old brewhouse Jackson Square, New Orleans
JW Marriott Hotel New Orleans
Lalaurie Mansion, New Orleans
Le Pavillon Hotel, New Orleans
Le Richelieu in the French Quarter, New Orleans
Loews New Orleans Hotel Loft 523 New Orleans
Louis Armstrong New Orleans International Airport Louisiana Superdome - New Orleans, Louisiana - Home to the NFL's New Orleans Saints Magazine Street, New Orleans
Maison Dupuy, New Orleans
Mardi Gras, New Orleans
Monteleone Hotel, New Orleans
New Orleans Marriott, New Orleans
New Orleans Museum of Art, New Orleans
Old Absinthe House, New Orleans
Omni Royal Orleans, New Orleans
Place D'Armes Hotel, New Orleans
Prince Conti Hotel, New Orleans
Renaissance Arts Hotel, New Orleans
Renaissance Pere Marquette Hotel, New Orleans
Riverwalk Marketplace, New Orleans
, LA Royal Sonesta Hotel, New Orleans
Royal St. Charles Hotel, New Orleans
Saint Louis Hotel, New Orleans
Sheraton New Orleans Hotel Soniat House, New Orleans
St. Ann/ Marie Antoinette Hotel, New Orleans
St. Louis Cathedral, New Orleans
St. Pierre Hotel New Orleans
Storyville District, New Orleans
The Bourbon Orleans Hotel, New Orleans
The Lafayette Hotel, New Orleans
The Omni Royal Crescent, New Orleans
The Pelham, New Orleans
The Presbytere, New Orleans
The Ritz Carlton, New Orleans
The Roosevelt New Orleans, A Waldorf Astoria Collection Hotel, New Orleans
W New Orleans (333 Poydras Street) W New Orleans - French Quarter Warehouse District, New Orleans
Westin New Orleans Canal Place Windsor Court Hotel, New Orleans
World Trade Center, New Orleans


New Orleans Area Neighborhoods
Algiers Point neighborhood
Audubon (University) neighborhood
Bayou St. John neighborhood
Behrman neighborhood
Black Pearl neighborhood
Bonita Park (Plum Orchard) neighborhood
Brechtel (Tall Timbers) neighborhood
Broad (Fairgrounds) neighborhood
Broadmoor neighborhood
Bywater neighborhood
CBD (Central Business District) neighborhood
Calliope Project neighborhood
City Park neighborhood
Desire Area neighborhood
Desire Project neighborhood
Dillard neighborhood
Dixon neighborhood
Donna Villa (Camelot) neighborhood
East Carrollton neighborhood
East Riverside neighborhood
Edgelake (Little Woods) neighborhood
English Turn (New Aurora) neighborhood
Fillmore neighborhood
Fischer Project neighborhood
Florida Area neighborhood
Florida Project neighborhood
Freret neighborhood
Garden District neighborhood
Gentilly Terrace neighborhood
Gentilly Woods neighborhood
Gravier (Tulane) neighborhood
Hollygrove neighborhood
Holy Cross neighborhood
Iberville Project neighborhood
Irish Channel neighborhood
Lake Catherine (Fort Pike) neighborhood
Lake Forest East neighborhood
Lake Terrace (Lake Oaks) neighborhood
Lakeshore (Lake Vista) neighborhood
Lakeview neighborhood
Lower Ninth Ward neighborhood
Magnolia (Central City) neighborhood
Marigny neighborhood
Marlyville (Fontainbleau) neighborhood
McDonogh neighborhood
Mid-City neighborhood
Milan neighborhood
Milneburg neighborhood
Navarre neighborhood
Old Aurora neighborhood
Pines (Lake Kenilworth) neighborhood
Pontchartrain Park neighborhood
Seventh Ward neighborhood
Sherwood Forest (Eastover) neighborhood
St Anthony neighborhood
St Bernard Area neighborhood
St Claude neighborhood
St Roch neighborhood
St Thomas neighborhood
St Thomas Project neighborhood
Touro neighborhood
Treme neighborhood
U.S. Naval Base neighborhood
Uptown neighborhood
Venetian Isles (Viavant) neighborhood
Vieux Carre neighborhood
Village de l'est neighborhood
West Carrollton (Leonidas) neighborhood
West End (Lakewood) neighborhood
West Riverside neighborhood
Whitney neighborhood
Zion City (Gerrtown) neighborhood

New Orleans Area Religions
New Orleans Southern Baptist Convention Population is 13%
New Orleans United Methodist Church population is 5%
New Orleans Catholic Church population is 64%
New Orleans other population is 18%

New Orleans Area Government
New Orleans government is mayor-council system. The city council consists of seven council members, they are voted by district and two at-large councilmembers. The Orleans Parish Civil Sheriff's Office serves credentials concerning lawsuits and provides safety for the Civil District Court and Juvenile Courts. The city of New Orleans and the parish of Orleans manage as a combined city-parish government. Earlier than the city of New Orleans became co-extensive with Orleans Parish, Orleans Parish was home to several minor communities. Currently the city government is largely nationalized in the city council and mayor's office, but it maintains many relics from earlier systems when different sections of the city ran much of their affairs separately. The New Orleans government manages both a fire department and the New Orleans Emergency Medical Services.
New Orleans Area Economy
The city economy is conquered by four major sectors. They are oil/gas and related deeds, tourism, the port and ship/boat building, and aerospace manufacturing. Tourism is the most important sector in the New Orleans economy. It continues to be the powerful force of New Orleans' economy. New Orleans' tourist and convention industry is a $5.5 billion juggernaut that accounts for 40 percent of New Orleans' tax revenues. New Orleans, site of the world's first trade center it has been selected a Foreign Trade Zone. The city is home to one of the major and busiest ports in the world, and metropolitan New Orleans is a center of naval industry. New Orleans was heralded by numerous magazines as a top place for small businesses and entrepreneurs. Currently the city economy has diversified into such different fields as health services, aerospace, and research and technology.
New Orleans Area Geography
New Orleans is the Louisiana's largest city in United States. The city of New Orleans is situated in the Mississippi River Delta on the east and west banks of the Mississippi River and south of Lake Pontchartrain. The large Lake Pontchartrain also lies within the city borders. New Orleans is most famous for its characteristic French architecture and French culture. The city nick name is "Crescent City". The city has humid, semi-tropical climate. New Orleans is reserved from boundaries by neighboring waters. The city snowfall is insignificant, rain occurs during the year. Waterspouts caused by small tornadoes are regularly seen on nearby lakes. The city is population wide 46th largest metropolitan area in the United States.
12/2/2011 sam
Write Comment
New Orleans City History
New Orleans was founded in the year 1718. It was at first a trading camp on a curve in the east bank of the Mississippi River. It was organized into a fortified community, which still exists today as the French Quarter. As the city grew it took the shape of a crescent than later was called the Crescent City. Even to this day, the citys massive pumps and canals drain the city (annual rain fall can be between 60 and 100). The French established New Orleans as the capital in the state of Louisiana. In reality it twice the size of a capital so it was removed from New Orleans to a city called Doanldsonville in the year 1825. Than later moved to the city Baton Rouge in the year 1846.Finally in the 1864 during reconstructions the capital colony for the French made it to New Orleans. New Orleans is actually located about 60 miles north of the Gulf. The cities French roots still show because many of the streets are named after nobility and kings. Also the great chess master Paul Morphy was boring the house of Chartres in the French Quarter which is today an open public museum and is named The Beauregard House.
Sublet.com is an apartment rental service that advertises apartments, sublets, subleases, roommates & houses for rent. Apartment rentals, sublets, subleases, roommates and potential renters have not been screened, verified or evaluated. Individuals utilizing this rental service to find apartments, sublets, subleases, roommates or tenants take full responsibility for their actions & understand that the owners of the site take no responsibility for any consequences of using this service

&copy Copyright Spyder Web Enterprises LLC, 1999 to present. All rights reserved.