Hawaii Rentals by Region
Hawaii Information by Region
Hawaii State Information
Hawaii state is located on south of the Tropic of Cancer in the Pacific Ocean. And 2,400 miles southwest of California. Hawaii Island was always the name of the Island. In 1959, August 21st Hawaii was the admitted to the Union in United States. Hawaii State population recent census estimate puts at 1,283,388. It's roughly 26 percent Hawaiian and part Hawaiian, 25 percent Caucasian, 21 percent Japanese, and 28 percent Filipino and other Asian and Pacific Islanders. On the Big Island speaking languages are Hawaiian and English. The east side of the island is often wet from the moist trade winds coming from the northeast. In Hawaii only two seasons there are summer, between May and October, and winter, between October and April.
Hawaii Recreation, Culture and Attractions
Hawaii has many different ethnic groups in the last 200 years. The culture of Hawai'i is arguably one of the strongest remaining in the world, and certainly within the United States. Hawaii traditional culture and the customs of Hawaii's ethnically diverse immigrants are an integral part of the social fabric. Multitude of cultures and permanently good weather, Hawaii always has something to celebrate. They celebrates cultural events also. There are many state and county parks, including the popular Waimea Canyon State Park on Kauai - home to the "Grand Canyon of the Pacific," as Mark Twain called it. There are also other Federal Preserves, Walkways, Historic Sites, etc. There are several areas in Hawaii under the control and protection of the National Park Service. Hawii has two national parks i.e Hawaii Volcanoes National Park and Haleakala National park. Hawii's popular game of the ancient ali'i, involved a sled, and was incredibly dangerous. The island's best snorkeling spots include Place of Refuge and Kahaluu Beach Park.There are many diving operators of charter boats for diving and snorkeling excursions.
Hawaii State Demographics
Hawaii total population - 1,211,537
Hawaii male population - 608,671
Hawaii female population - 602,866
Hawaii white population - 294,102
Hawaii black population - 22,003
Hawaii American Indian and Alaska Native - 3,535
Hawaii Asian population - 503,868
Hawaii Hispanic or Latino population - 87,699
Hawaiian Native and Other Pacific Islander - 113,539
Hawaii School Information
Hawaii education system throughout union with a unified school system statewide. The Hawaii Board of Education sets statewide educational policy and hires the Hawaii state superintendent of schools. In the State Hawaii public schools are operated by Hawaii State Department of Education. The first native designed and controlled public charter school in Hawaii was the Kanu O Ka Aina New Century Charter School. Hawaii has the distinction of educating secondary education than any other state in the United States. Hawaii has four largest Independent Schools. That is Iolani School, Kamehameha Schools, Mid-Pacific Institute, and Punahou School. The first Buddhist high school in Hawaii and second Buddhist high school in United States. In Hawaii have Graduates of institutions of secondary learning. Students most choose to attend one of many institutions of higher learning in Hawaii. Students choosing private education attend Brigham Young University-Hawaii, Chaminade University of Honolulu, Hawaii Pacific University, or University of the Nations. The Saint Stephen Diocesan Center is a seminary of the Roman Catholic Diocese of Honolulu. There are largest of these institutions is the University of Hawaii system.
Hawaii State Symbols
Hawaii State nickname - Hawaiian monk seal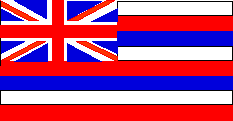 Hawaii state flag
Hawaii state Slogan
The Islands of Aloha
Hawaii state Song
Hilo
Hawaii state Land Mammal
Hawaiian monk seal
Hawaii state Mammal
Humpback whale
Hawaii state Motto
Ua mau ke ea o ka aina i ka pono
Hawaii state Fish
Humuhumunukunukuapua
Hawaii state Flower
Hawaiian hibiscus
Hawaii state Bird
Hawaiian Goose
Hawaii state Tree
Candlenut Tree
Hawaii state Soil
Hilo
Hawaii History
In Hawaii first settled by Polynesians sailing from other Pacific islands between C.E. 300 and 600. It is discovered by the Polynesians. The islands were first visited by Europeans in 1778 by the English explorer Captain James Cook, who named them the Sandwich Islands for the English Earl of Sandwich. At that time the islands were under the rule of warring native kings. Hawaii was granted statehood on August 21, 1959. Hawaii was an independent republic from 1894 until 1898. In 1900, Hawaii was granted self-governance and retained ?Iolani Palace as the territorial capitol building. The Republic of Hawaii was the formal name of Hawaii from 1894 to 1898 when it was run as a republic. The Hawaii The republic period occurred between the administration of the Provisional Government which ended on July 4, 1894.
Hawaii Tourist Information
In Hawaii airports have tourist information booths. In Hilo and Kona have two Hawaii Visitors Bureau offices. Hawaii Tourist Attractions are family vacation spots, historical parks, amusement parks, adventure parks, historical landmarks, family tourist attractions, water parks, ghost towns, planetariums, museums, zoos, wineries, golf courses, miniature golf courses, sport parks, theme parks, Hawaii state parks, national parks, monuments, botanical gardens, ski lodges, rockhounding locations, scenic drives, historical sites, including Hawaii tourist attractions w/lodging, and numerous indoor and outdoor recreational activities. Tourism peaks in the winter months from November to March this is when mainland Americans, in particular retires, take their extended winter break.Most of the attractions in Hawaii are free, including beaches, volcanoes, snorkeling, and even whale watching.
Hawaii Transportation
Hawaii state Department of Transportation is responsible to plan, design, construct, operate, and maintain Hawaii state facilities in all modes of transportation, including air, water, and land. Coordination with other State, County, and Federal programs is maintained in order to achieve the objective. Hawaii has H-1, H-2, H-3, and H-201 highwasys. H1 was constructed after Honolulu was well established, and on/off ramps are diverted throughout the city. There are two Airports, Hawaiian Airlines, Mokulele Airlines. These airlines also provide air freight service between the islands. In Hawaii, there are TheBoat, boat fare is $2.00 from Barber's Point to Aloha Tower Marketplace daily.
Hawaii Taxes
Hawaii State Tax Rate Range Low 1.4 %- High 8.25%
Hawaii State Tax Income Brackets Lowest 2,400 (b) - Highest 48,000 (b)
Hawaii State Personal Exemptions Single -1,040, Married - 2,080, Dependents - 1,040
Hawaii State Sales Tax Rate on Food 4%, on Prescription Drugs 0%, on Non-prescription Drugs 0%
Hawaii State Total Tax on Gasoline 17.0%, on Diesel Fuel 17.0%
Hawaii State Excise Tax Rates on Cigarettes Tax Rate 180(¢ per pack)
Hawaii State Beer Excise Tax Rate $0.93($ per gallon)
Hawaii State Wine Excise Tax Rate $1.38($ per gallon)
Hawaii Universities
University of Hawaii at Manoa - 20,357 students
University of Hawaii at Hilo - 3,507 students
Kauai Community College - 1,119 students
Hawaii Pacific University - 8,080 students
Kapiolani Community College - 7,272 students
Leeward Community College - 5,746 students
Maui Community College - 2,841 students
Windward Community College - 1,781 students
Honolulu Community College - 4,143 students
Hawaii Community College - 2,358 students
Hawaii Religions
Christianity - 60.6%
Protestant/Other Christian - 37.8%
Roman Catholic - 22.8%
Mormonism - 3.3%
Judaism - 0.7%
None, Agnostic, Atheist - 21.0%
Hawaii Counties
Hawaii County, Hawaii - 148,677 Population
City and County of Honolulu, Hawaii - 876,156 Population
Kalawao County, Hawaii - 147 Population
Kauai County, Hawaii - 58,463 Population
Maui County, Hawaii - 128,094 Population
Hawaii State Government
Hawaii was once ruled by kings and much of its history concerns the relationships of the rulers. The Hawaii modeled after the federal government with adaptations originating from the kingdom era of Hawaiian history. There are three branches of government i.e executive, legislative and judicial. The Hawaii state county mayors are elected in nonpartisan races. Every county in the Hawaii state supported the Democratic candidate. The Hawaii State represented in United States Congress by delegation of four members. The officers of the federal and state governments have been historically elected from the Democratic Party and Republican Party of Hawaii.
Hawaii State Economy
Hawaii's economy makes most of their income through service industries, spending by tourists contributes considerably. The state major economic sectors include tourism, transportation, education, manufacturing and agriculture. And also sugar rattan and pineapples are Hawaii's most valued produces. Industries are value to raw products by producing manufactured things like cotton cloth develops more prized than a boll of cotton through manufacturing developments. Tourism is leftovers Hawaii's foremost employer, revenue producer, and development sector. The state has a moderately high state tax burden. In 2001 estimation the state's public sector has a better being in any other state, accounting for 21.5% of gross state product. The State's gross economic development was moderately inactive in Hawaii at the end of the 20th century, hastening only from 2.2% in 1998 to 3.3% in 1999 to 4.6% in 2000.
Hawaii State Parks
Ala Kahakai National Historic Trail - the Island of Hawaii, HI: There are no entrence fee. Haleakala National Park - Kula, Maui, HI: All park visitors are required to purchase a recreational use pass upon entering Haleakala National Park. Hawaii Volcanoes National Park - Hilo, HI: Entrence feeses are $10.00 per vehicle - 7 days, $5.00 per individual - 7 days, $25.00 Hawai`i Tri-park Annual Pass. Kalaupapa National Historical Park - Kalaupapa, HI: There is no entrance fee for the park, nor are there fees for any park facilities. Kaloko-Honokohau National Historical Park - Kailua-Kona, HI: There is no entrence fees. Pu`uhonua O Honaunau National Historical Park - Honaunau, HI: Fees! $5.00 per vehicle - 7 days, $3.00 per individual - 7 days, $25.00 Tri-park Annual Pass. Individuals 15 years old and younger are admitted free of charge. Puukohola Heiau National Historic Site - Kawaihae, HI: There is no entrence fee. World War II Valor in the Pacific National Monument - Honolulu, HI,AK,CA: Free tickets are distributed on a first-come, first-served basis for timed programs to the memorial. Admission to the memorial is free.