Delaware Rentals by Region
Delaware Information by Region
Delaware Information
Delaware State is located on eastern seaboard of the US. Delaware is the second smallest state of the U.S. In size wise the Delaware State rank is 49th of all U.S. States. The Delaware state total area is 5,295 sq km. And 383,000 acres approximately, the Delaware state had forestland. In population wise Delaware rank is 44th. The Delaware state population is 807,385 in 2002 estimation. In this Delaware state, many religions are living here. The Methodist Church was the largest denomination in Delaware by the early 19th century. The Delaware state official language is English. 90.5% of the resident population five years of age or older spoke only English at home. French language is also third most spoken language in Delaware. The Delaware climate is the temperate and humid. The normal daily mean temperature in Wilmington is 12°C. Wilmington's average share of sunshine is 55%, one of the lowest percentages among leading US cities. Delaware total agriculture farm marketing were $848 million, and its income from crops was $186 million. The Delaware state major agricultural field crops are corn, soybeans, barley, wheat, melons, potatoes, mushrooms, lima beans, and green peas. In 2001 estimations, the Delaware state gross product in 2001 was $40.5 billion. Delaware has been one of the nation's most prosperous states.
Delaware Recreation, Culture and Attractions
Delaware culture is still Influences of the Swedish and Dutch culture. Delaware is home to several festivals, fairs, and events. In Delaware State have many cultures of people. There are Germans, Italians, Polish and Irish to the Puerto Ricans, Africans and Greeks, each culture exposes their heritage by means of large celebrations, festival and parades that equal those large cities. The Delaware state has many attractive and historical places. The Delaware state has 27 museums. Delaware State Parks have exceptional trails, ponds, beaches, forests and fields, but there's so much more. Delaware State Parks bring exotic animals at the Brandywine Zoo, resort cottages and a state-of-the-art marina at Indian River, folk art at the Blue Ball Barn, and history in the Mt. Pleasant Meeting House, Indian River Life-Saving Station, Fort Miles Historical Area and many, many more special places. Wilmington is one of the city of Delaware states. Wilmington has a minor league baseball team, the Blue Rocks, in the Carolina League. The Delaware state has Dover International Speedway and Dover Downs. Dover Downs is a popular harness racing facility.
Delaware Demographics
Delaware State total population - 783,600
Delaware State male population - 380,541
Delaware State female population - 403,059
Delaware State white population - 584,773
Delaware State black or African American population - 150,666
Delaware State American Indian and Alaska Native population - 2,731
Delaware State Asian population - 16,259
Delaware State Hispanic or Latino population - 37,277
Delaware School Information
Delaware state education system was centralized in state Superintendent of Education. According to an estimation in 2000, approximately 82.6% of adults in Delaware are high school graduates. Minority students made up approximately 40% of the total enrollment in public elementary and secondary schools in 2001. Public schools in Delaware seem to graduate a higher percentage of black students than the nation as a whole. The Delaware higher education institutions were 51,407 students enrolled. There are three independent colleges. They are Goldey-Beacom College (Wilmington), Wesley College (Dover), and Wilmington College. The higher education system in the Delaware state is diverse, with a "flagship" and a traditionally black university, as well as some private institutions and community colleges.
Delaware State Symbols
Delaware state nickname - Diamond State, Blue Hen State, Small Wonder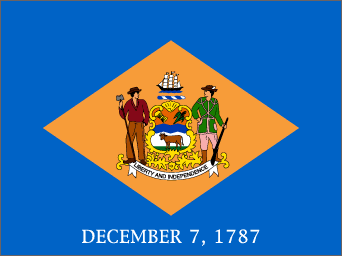 Delaware state flag
Delaware state mammal
Grey fox
Delaware state marine animal
Horseshoe crab
Delaware state bird
Blue hen chicken
Delaware state fish
Weakfish
Delaware state bug
7-spotted ladybug
Delaware state insect
Eastern Tiger Swallowtail
Delaware state flower
Peach blossom
Delaware state motto
Liberty and Independence
Delaware state song
Our Delaware
Delaware state tree
American holly
Delaware state Soil
Greenwich Loam
Delaware state slogan
It's Good Being First
Delaware state fossil
Belemnite
Delaware History
Delaware state is a small state of United States. In 1631 the Dutch were the first Europeans to settle in what is now Delaware, but their little colony was destroyed by Indians. Delaware imported more slaves as the number of English immigrants decreased with better economic conditions in England. In 1777, September the Delaware state were during the War for Independence. It is not only free from the British Empire, but also established a state government entirely separate from Pennsylvania. On 7 December 1787, Delaware became the first state to ratify the federal Constitution. The Delaware State is the first of the thirteen original states to ratify the Constitution of the United States. In 1787, December 7th Delaware became "The First State" of the new Federal Union. In 1787, Delaware state making Delaware the first state to the leaders of Delaware were able to easily secure ratification. Delaware is notable for being the only slave state. Now the Delaware state agriculture income is the rose. In the 19th century, along with corn and wheat; poultry, sorghum, and soybeans became major sources of agricultural income in the 20th century. In middle of 1990s, the business fared well in Delaware, the Delaware state lagged behind in social welfare indicators.
Delaware Tourist Information
Delaware state tourism industry is second only to manufacturing in economic importance. The tourism offices are to improve the tourism industry within the Delaware state. Delaware State has the second longest twin span suspension bridge in the world, the Delaware Memorial Bridge. Delaware fort is the historical site of the Delaware state. Fishing, clamming, crabbing, boating, and swimming are the main recreational attractions. In this Delaware state have several festivals, fairs, and events. Some of the more notable festivals are the River fest held in Seaford, the World Championship Punkin Chunkin held at various locations throughout the county since 1986. Events are the Delaware Kite Festival at Cape Henlopen State Park every Good Friday. The Delaware state most popular attractions are beaches and shoppings.
Delaware Transportation
Delaware state transportation system is maintenance the Delaware Department of Transportation. It is also the Delaware state citizens are DelDOT. There are also several state road highways that cross the state of Delaware. In 2000, the Delaware state had 5,779 mi of public highways, roads, and streets. The Delaware state also operates two toll highways, the Delaware Turnpike and Korean War Veterans Memorial Highway. Delaware has around 1,450 bridges, ninety-five percent of which are under the supervision of DelDOT. In Delaware state had major freight railroad in Delaware is the Class 1 Norfolk Southern, which provides service. It connects with two shortline railroads, the Delaware Coast Line Railway and the Maryland & Delaware Railroad. Delaware commercial airline passengers most frequently use Philadelphia International Airport (PHL) and Baltimore-Washington International Thurgood Marshall Airport (BWI) for domestic and international transit. Newark Liberty International Airport (EWR) and Ronald Reagan Washington National Airport. In 2002, the Delaware state had 45 airfields there are 29 airport, 15 heliports, 1 seaplane base. Greater Wilmington Airport was the largest and busiest.
Delaware Taxes
Delaware State Tax Rate Range Low 2.2% - High 5.95%
Delaware State Tax Income Brackets Lowest 5,000 - Highest 60,000
Delaware State Personal Exemptions Single -110 (c), Married - 220 (c), Dependents - 110 (c)
Delaware State Sales Tax Rate on Food 0%, on Prescription Drugs 0%,on Non-prescription Drugs 0%
Delaware State Total Tax on Gasoline 23.0%, on Diesel Fuel 22.0%
Delaware State Excise Tax Rates On Cigarettes Tax Rate 115(¢ per pack)
Delaware State Beer Excise Tax Rate $0.16($ per gallon)
Delaware State Wine Excise Tax Rate $0.97($ per gallon)
Delaware Universities
University of Delaware - 20,380 Students
Delaware State University - 3,690 Students
Delaware Technical and Community College-Owens - 4,021 Students
Delaware Technical and Community College-Stanton-Wilmington - 7,283 Students
Goldey-Beacom College - 1,236 Students
Delaware Technical and Community College-Terry - 2,744 Students
Delaware College of Art and Design - 172 Students
Delaware Religions
Methodist - 20%
Baptist - 19%
No Religion - 17%
Roman Catholic - 9%
Lutheran - 4%
Presbyterian - 3%
Pentecostal - 3%
Episcopalian/Anglican - 2%
Seventh-day Adventist - 2%
Churches of Christ - 1%
Other Christian - 3%
Muslim - 2%
Jewish - 1%
Other - 5%
Refused - 9%
Delaware Counties
Kent County, Delaware - Population 126,697
New Castle County, Delaware - Population 500,265
Sussex County, Delaware - Population 156,638
Delaware Government
The Delaware state has four state constitutions, adopted in 1776, 1792, 1831, and 1897. Delaware is the only state in which amendments need not be ratified by the voters. Voters in Delaware must be US citizens, at least 18 years old and permanent state residents. Most of Delaware's 57 municipalities elect a mayor and council. All legislators must have been residents of the Delaware state for three years and must have lived in their district for one year prior to election. The legislature may override a gubernatorial veto by a three-fifths vote of the elected members of each house. The local government in Delaware ends to be weaker than that in other states. Now the Delaware state Democratic Party gains most of its votes from developed New Castle County. Historically, the Republican Party had an immense influence on Delaware politics. The most plurality of registration party is the Democratic Party in Delaware.
Delaware Economy
The Delaware State economy is mainly depends on manufactured industries. In mid of 1970s Delaware become national prosperous state. Delaware most historical economy is based on chemical and automobile industries. The major agricultural livestock's of Delaware are milk, broiler and hogs and the crops of Delaware are soybeans, corn, barley, wheat, potatoes, apples, and nursery. The industries in Delaware are chemical and pharmaceutical companies are the principal manufacturing items and automobiles manufacturing is the secondary. Delaware's important mined objects are magnesium, sand and gravel. Delaware's gross product is mainly based on real estate, finance and insurance services. Delaware has Fortune 500 company's headquarters. Delaware GDP was around $62.3 billion in 2010. Delaware state unemployment rate in 2011 was nearly 8.5%.
Delaware Parks
Assateague Island National Seashore - MD,VA: There will be free fee the summer weekends the enjoy the Seashore in the Maryland and Virginia districts. But June 20-21, July 18-19, August 15-16 weekends entrance fees will be waived. Baltimore-Washington Parkway - Washington D.C. and Baltimore, Maryland, MD: There are no fees. Chesapeake Bay Gateways Network - Chesapeake Bay Watershed, DC,MD,NY,PA,VA,WV: The National Parks Pass only provides access to those Gateways Network sites directly managed by the National Park Service. Edgar Allan Poe National Historic Site - Philadelphia, PA: Admission fee is free. Reservations are necessary to provide the best quality experience for your class, group or organization. Fort McHenry National Monument and Historic Shrine - Baltimore, MD: the historic area of the park Entrance Fees is $7.00 for adults 16 years of age and older, children 15 and younger are free. This fee provides the visitor with a 7-day entrance permit to Fort McHenry National Monument and Historic Shrine. Park Annual Pass is available for $30. The pass is valid for 12 months from the date of purchase. Interagency Senior Pass is $10. Interagency Access Pass is free. Gloria Dei Church National Historic Site - Philadelphia, PA: There is no fee for this park. Greenbelt Park - Greenbelt, MD: The campground fee is $16. Independence National Historical Park - Philadelphia, PA: Admission fee is free to all park sites. New Jersey Pinelands National Reserve - Southeastern New Jersey, NJ: There are no entrance fee.