Connecticut Rentals by Region
Connecticut Information by Region
Connecticut Information
Connecticut State is located New England northern corner of the United States. Connecticut state rank was 48th in size among the 50 states. In 2002 the Connecticut state forest covered 168,000 acres. The Connecticut state total area is 5,018 sq mi. Connecticut climate is mild winters and warm summers. The highest record of the temperature was 41°C. In population wise the Connecticut state rank is 29th in the United States. Connecticut had the fourth-highest population density of all 50 states in 2000. In 2002 estimated total population is 3,460,503. The population is increased since to the 2000 at 1.6%. This Connecticut state has large Italian American, Irish American and English American populations. Basically the Connecticut state language is English. 84.8% population spoke English at home. And 8.42% spoke Spanish, 1.59% spoke Italian, 1.31% spoke French and 1.20% spoke Polish. Recent immigration has brought other non-Christian religions to the Connecticut state, but the numbers of adherents of other religions are still low. The Connecticut state has largest Protestant Church. In Connecticut agriculture products are Tobacco, silage, potatoes, sweet corn, tomatoes, apples, and peaches. In 2002 tobacco production was 1,428,000 kg. Connecticut had the 22nd largest gross state product among the states in 2001.
Connecticut Recreation, Culture and Attractions
The Connecticut state capital was Hartford. Hartford has Connecticut state library. The museum is also home to numerous permanent exhibits that trace the Connecticut state?s history through colonial and early statehood days. Throughout the four seasons, colorful festivals and celebrations draw enthusiastic crowds together for games, parades, live entertainment, and good food. The charming State of Connecticut's most popular attractions include Mystic Seaport. Tourism has become an increasingly important part of the economy of Connecticut. The Connecticut Historical Society is located on Hartford. The Connecticut state's first major league team is SUN. This is joined the WNBA in 2003. There are also minor league hockey and basketball teams in the Connecticut state. Connecticut schools, colleges, and universities provide amateur athletic competitions. The Pilot Pen Tennis Tournament is held annually at the Connecticut Tennis Center at Yale University. The Connecticut state has some professional teams. That is NHL hockey since the mid 1990s, NFL football, MLS soccer and men's basketball.
Connecticut Demographics
Connecticut total population - 3,405,565
Connecticut male population - 1,649,319
Connecticut female population - 1,756,246
Connecticut white population - 2,780,355
Connecticut black population - 309,843
Connecticut American Indian and Connecticut Native - 9,639
Connecticut Asian population - 82,313
Connecticut Hispanic or Latino population - 320,323
Connecticut School Information
The Connecticut public education was greatly strengthened in the 19th century. The Board of Education of Connecticut was established on 1865. As the home of internationally acclaimed Yale University, the Connecticut state upholds the highest of educational standards and programs. Yale University is founded on 1701. The Connecticut state was home for the nation's first law school. And the Connecticut state has many noted private day schools. High school graduates of all ages can choose from more than 20 private institutions of higher learning and five state universities that include the U.S. Coast Guard Academy. The Connecticut state has also so many noted boarding schools. The state public schools are management under the Connecticut State Department of Education. In 2001 nonpublic schools enrollment was 70,058.
Connecticut State Symbols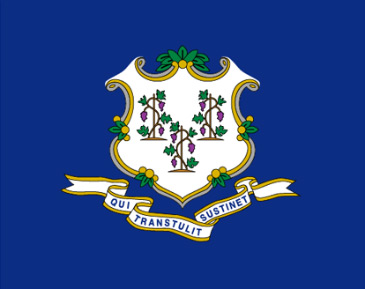 Connecticut state flag
Connecticut state Mammal
Sperm whale
Connecticut state Song
Yankee Doodle
Connecticut state Fish
American shad
Connecticut state Flower
Mountain laurel
Connecticut state Motto
Qui transtulit sustinet
Connecticut state Dance
Square Dance
Connecticut state Tree
White Oak
Connecticut state Soil
Windsor
Connecticut state Fossil
Dinosaur Tracks
Connecticut state Bird
American Robin
Connecticut state Slogan
We're full of surprises
Connecticut state Insect
European mantis
Connecticut state Ship
USS Nautilus
Connecticut state Ship
Freedom Schooner Amistad
Connecticut History
In 1500s and 1600s, the European settlers before arrival the Connecticut state was home for number of indigenous peoples. In 1614 the Dutch navigator, Adriaen Block, was the first European of record to explore the area, sailing up the Connecticut River. In 1637 the Pequot War was ensued. In 1639 Connecticut Colony and adopted the Fundamental Orders. In the year the Connecticut state was enjoyed a great measure of political independence. These Fundamental Orders are said to have been the first written Constitution of a democratic government. So because of the Connecticut state nickname was "The Constitution State". During the American Revolution, Connecticut gave freely of her blood and wealth. Her soldiers were on the battle line from Quebec to Carolina. The Constitution of the United States was written and the Declaration of Independence approved. Connecticut became the 5th state in 1788. After independence was secured, Connecticut quickly got down to business. Connecticut grew famous for its factories and the many immigrants that came to work in them. The Connecticut state factories are important supplier of airplane parts, submarines, guns, clothing, and food. In 2003 the Connecticut state was faced a multi-million dollar budget deficit. Now the Connecticut state was looking to attract further business investment to the state.
Connecticut Tourist Information
Tourism is the important part of the Connecticut state economy. The Connecticut state is charming state of most popular attractions include Mystic Seaport. The Connecticut state has top of tourist attractions. The Connecticut State was invests over $2.5 million each year to market tourism products. The Connecticut state popular tourist attractions are Mystic Seaport restoration and its aquarium, the Mark Twain House and state capitol in Hartford, the American Clock and Watch Museum in Bristol, the Lock Museum of America in Terryville, and the Yale campus in New Haven. The Connecticut state has so many parks also i.e historical parks, musement parks, adventure parks, historical landmarks.
Connecticut Transportation
The Connecticut state transportation is of the most important part of the State Economy. The Connecticut state bus services are manages under the Connecticut Department of Transportation. Bus networks are an important part of the transportation system in Connecticut. Local bus systems provide intra-city transportation. Major highways include I-95, the John Davis Lodge Turnpike, which crosses the entire length of the Connecticut state near the shore; I-91, linking New Haven and Springfield, MA; and I-84 from the Massachusetts Turnpike southwestward through Hartford, Waterbury, and Danbury to New York State. In this Connecticut state Three train services are available. That is the Amtrak, Metro-North, and Shoreline East. This Connecticut state has major airports i.e Bradley International Airport, Tweed New Haven Regional Airport, Danbury Municipal Airport, Waterbury-Oxford Airport and Westchester County Airport. Presently, most of Connecticut's waterborne traffic is handled through the two major ports of New Haven and Bridgeport.
Connecticut Taxes
Connecticut State Tax Rate Range Low 3.0% - High 5.0%
Connecticut State Tax Income Brackets Lowest 500 (b) - Highest 10,000 (b)
Connecticut State Personal Exemptions Single -12,750 (f), Married - 24,500 (f), Dependents - 0
Connecticut State Sales Tax Rate on Food 6%, on Prescription Drugs 0%,on Non-prescription Drugs 4%
Connecticut State Total Tax on Gasoline 25.0%, on Diesel Fuel 37.0%
Connecticut State Excise Tax Rates On Cigarettes Tax Rate 200(¢ per pack)
Connecticut State Beer Excise Tax Rate $0.19($ per gallon)
Connecticut State Wine Excise Tax Rate $0.60($ per gallon
Connecticut Universities
Wesleyan University - 3,220 students
Yale University - 11,415 students
University of Connecticut - 23,557 students
Connecticut College - 1,886 students
Trinity College - 2,499 students
Fairfield University - 5,091 students
Quinnipiac University - 7,341 students
Lyme Academy College of Fine Arts - 151 students
Sacred Heart University - 5,756 students
Southern Connecticut State University - 12,326 students
Connecticut Religions
Roman Catholic - 32%
Non-religious - 12%
Baptist - 10%
Other Christian - 7%
Episcopal - 6%
No answer - 6%
Methodist - 4%
Lutheran - 4%
Other religions - 4%
Other Protestant or general Protestant - 4%
Jewish - 3%
Congregational/United Church of Christ - 2%
Latter-Day Saint - 2%
Church of Christ - 2%
Presbyterian - 1%
Pentecostal - 1%
Assembly of God - 1%
Non-denominational - 1%
Muslim - 1%
Connecticut Counties
Fairfield County, Connecticut - Population 882,567
Hartford County, Connecticut - Population 857,183
Litchfield County, Connecticut - Population 182,193
Middlesex County, Connecticut - Population 155,071
New Haven County, Connecticut - Population 824,008
New London County, Connecticut - Population 259,088
Tolland County, Connecticut - Population 136,364
Windham County, Connecticut - Population 109,091
Connecticut Government
The Connecticut state legislature is the general assembly, consisting of a 36-member senate and 151-member House of Representatives. Connecticut had 30 municipalities, 149 township governments, 17 public school districts, and 384 special districts at 2002. The governor, generally with the advice and consent of the general assembly, selects the heads of state departments, commissions, and offices. The mayor-council system employs an elected chief executive with extensive appointment power and control over administrative agencies. The Judicial system consists of the Supreme Court, appellate court, superior court, and probate courts.
Committees
Administrative Services
Agriculture
Banking
Consumer Protection
Economic and Community Development
Developmental Services
Education
Environmental Protection
Higher Education
Utility Control
Public Works
Revenue Services
Social Services
Transportation and Veterans Affairs
Connecticut Economy
Connecticut is one of the strong economic states in United States. It has most of their income concluded service industries they make up the bulk of Connecticut's economy. The state's annual income was $54,117 in the year of 2007. Manufacturing is one of the most important sectors in Connecticut including textiles, silverware, sewing machines, and clocks and watches. The state has 2nd rank in the manufacture of machinery. Agricultural products are playing a major role for the state's economy. Dairy products also economic sectors in Connecticut including eggs, vegetables, tobacco, mushrooms, and apples are the important grange items. High-quality broadleaf tobacco, it is state's major crop, used in manufacture cigar wrappers, has been a field of Connecticut agriculture since the 1830s. Crushed stone is Connecticut's important excavated product trailed by sand and grit. Financial, real estate, and service industries are also of most significant economic sectors in the state. Transportation and tourism is also playing a major role in Connecticut's economy. The state has number of tourist attractions.
Connecticut Parks
Appalachian National Scenic Trail - Maine to Georgia, CT,GA,MA,MD,ME,NC,NH,NJ,NY,PA,TN,VA,VT,WV: There are fees for vehicle parking in some areas and there are fees at some overnight sites. There are no fees required to hike the A.T., and generally, no reservations are required or accepted at trail shelters or overnight sites. Quinebaug & Shetucket Rivers Valley National Heritage Corridor - Putnam, CT: Free! No admission fees to the Corridor or to most of its regular programs and events. Some of the private nonprofit historical and environmental sites of interest do charge admission or accept donations for special events and programs. Weir Farm National Historic Site - Ridgefield & Wilton, CT: ENTRANCE FEES: Burlingham House Visitor Center Free, ACTIVITY FEES,Ranger Led Tours and Programs: Free.