Sacramento - Stockton Information


Sacramento city is California's capital city in United States. It is situated on the convergence of the Sacramento River and the American River in the northern portion of California's liberal Central Valley. It is the cultural, educational, business and governmental hub of a four - county metropolitan region in the state of California. It is the California's seventh-largest city at the 2000 estimation. Sacramento was the gateway to the mining regions during the California gold rush of 1849 and long has been one of the West's leading marketable and transportation centers. The city has rich historical heritage, pledge to value of life, and plenty of trees and parkland contributed to Newsweek magazine naming Sacramento one of the ten best cities in the United States. The city covers a land area of 96.3 sq mi. It has 486,488 populations in 2010 estimation. Sacramento is the hub cultural and economic center of the Sacramento metropolitan area which contains seven counties. The Sacramento main metropolitan area includes Sacramento, El Dorado, and Placer counties. Sacramento is a developed city with huge pride in its ethnic and cultural diversity, concern for environmental and social issues, and importance on quality in the provision of governmental services. Currently the Sacramento is a city of cordial tree-lined streets and, famous for flowers that bloom all year, it is also known as the "Camellia Capital of the World."
Sacramento - Stockton Rentals by Area More Cities
Sacramento - Stockton Information by Area More Cities
Amador County Information
Arden Information
Carmichael Information
Citrus Heights Information
El Dorado County Information
Elk Grove Information
Fair Oaks Information
Florin Information
Folsom Information
Lodi Information
Manteca Information
Mountain House Information
North Highlands Information
Orangevale Information
Parkway Information
Placer County Information
Rancho Cordova Information
Roseville Information
Sacramento Information
San Joaquin County Information
Sloughhouse Information
Stockton Information
Sutter County Information
Tracy Information
West Sacramento Information
Wilton Information
Yolo County Information
Sacramento - Stockton Recreation, Culture and Attractions
Sacramento city is a cultural center in California. The city is home to many historic buildings including the Lady Adams Building, built by the passengers and ship's carpenters of the ship Lady Adams. It is also has several major theatre venues for Sacramento. California's major nonprofit musical theatre is Sacramento theatre. The Sacramento Metropolitan Arts Commission is a society which was recognized as the Sacramento arts council in 1977 to present several arts programs for the city. These include Art in Public Places, Arts Education, Grants and Cultural Programs, Poet Laureate Program, Arts Stabilization Programs and Other Resources and opportunities. The city hosts the many festivals and events. Sacramento Jazz Jubilee, the world's major worshippers of jazz bands, takes place during Memorial Day weekend; it features more than 100 bands and attracts more than 100,000 viewers. The Bridge to Bridge Waterfront Festival is hosts July is a two-day event featuring boat races, boating exhibitors, and Coast Guard and wakeboard demonstrations. From middle August throughout near the beginning September Sacramento hosts the California State Fair, one of the major agricultural fairs in the country, at the California Exposition; the fair's features include a concert series, rides, horse racing, numerous competitions, extreme sports demonstrations, indoor and outdoor exhibits and shows, and a kids park. The city of Sacramento hosted the 2000 and 2004 USA Olympic Track & Field Trials and has regularly hosted the NCAA Men's Outdoor Track and Field Championship as well as the 1st and 2nd rounds of the NCAA Men's Division I Basketball Championship. The city is home to many tourist attractions and it has more than 120 parks. Tourism is also play a major role in the city's economy.
Sacramento - Stockton Demographics
Sacramento total population - 466,687
Sacramento male population - 226,779
Sacramento female population - 239,908
Sacramento White population - 176,585
Sacramento Hispanic population - 117,035
Sacramento Asian population - 84,092
Sacramento Black population - 61,696
Sacramento Other race population - 2,514
Sacramento American population - 2,521
Sacramento Native Hawaiian and Other Pacific Islander population - 5,695

Sacramento - Stockton Education
The city of Sacramento is a one of the major educational center in California. It has many numerous private colleges and universities, as well as the University of the Pacific's McGeorge School of Law it is established in 1924, the city is the site of California State University at Sacramento it is founded in 1947. There are many unaccredited private institution, the University of Sacramento, a Roman Catholic university run by the Legionaries of Christ. Now, the university offers course work in graduate programs. The city is provided by different public school districts, but primarily by the Sacramento City Unified and Twin Rivers Unified districts. There are many private schools in Sacramento. The city has a community college. It is placed in the city two more are in the county. Sacramento has two-year colleges they are American River, Cosumnes River, and Sacramento City colleges.
Sacramento - Stockton Symbol
Sacramento nick name - River City, Sac, Sacto, Sac-Town, Camellia City of the World, City of Trees, The Capitol City, Cap-City
Sacramento motto - Urbs indomita (Indomitable City)
Sacramento - Stockton Flag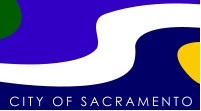 Sacramento - Stockton History
The Sacramento area was first occupied by the Nisenan. They are also identified as the Southern Maidu, have lived for thousands of years in the Sacramento Valley. Sutter built a fort on the site of currently Sacramento and called his resolution New Helvetia. The area was deemed flabby for migration by a number of explorers, and as an effect remained comparatively unaffected by the Europeans who claimed the region. In spite of attempts by Sutter and Marshall to stay the finding a secret, the area was soon overrun by gold seekers. The city Marshall in 1848 exposed a gold chunk, accordingly precipitating the great California Gold Rush of 1849. In the same time the city is oldest incorporated city in California, Sacramento's rich and animated history goes back to 1849 when its citizens adopted a deed. The town of Sacramento improvement as a commercial and transportation center through the California gold rush. The city built-in 1850 and became the state capital in 1854. The California State Legislature formally enthused to Sacramento in 1854 and at the 1879 Constitutional Convention; Sacramento was named the permanent State Capital. Six years afterward Sacramento became the western limit of the Pony Express. Manufacture of the first transcontinental railroad began in the city in 1863. During the 20th century the Sacramento developed in high level. Its most important industry was the processing and canning of agricultural products. The city of Sacramento quickly became a major sharing and transportation top as the western end for both the Pony Express and the First Transcontinental Railroad and maintains its location at the top of the rail transportation industry on the West Coast. Now the city is California's capital city is habitually ignored by tourists looking for out better known destinations in other corners of the state. Now the city has number of famous museums, top restaurants, jazz nightspots, impressive theaters, and more than 100 parks, scenic trails by the American River Parkway, and some striking architecture, as well as the magnificent Sacramento State Capitol building.
Sacramento - Stockton Tourism
The Sacramento tourism industry is playing a major role in economy. The visitors will want to verify the cheetahs, jaguars and crocodiles at the Zoo while political buffs should head to the state Capitol, which features a park and museum on California history, or the Governor's Mansion. Now the city has number of famous museums, top restaurants, jazz nightspots, impressive theaters, and more than 100 parks, scenic trails by the American River Parkway, and some striking architecture, as well as the magnificent Sacramento State Capitol building. It is a famous tourist destination in California.
Sacramento - Stockton Transportation
Sacramento is managed by numerous highways and freeways. The largest thoroughfares are the freeways, they are: Interstate 80 and Business 80, which run from the west to the northeast, and Interstate 5, which runs north and south. Further main roads are the Garden Highway, running east and west, and State Highway 99, coming from the southern element of the city to join Business 80. In downtown Sacramento, the streets management east and west is named by letter; streets running north and south are elected by number. The city has International Airport. Passenger train service is available throughout Amtrak. There are 2nd busiest Amtrak station in California and the 10th busiest in the country.
Sacramento - Stockton Taxes
Sacramento Sales Tax - 5%

Sacramento - Stockton Universities
California State University, Sacramento, California, United States - 29,241 Students
University of Phoenix-Sacramento Valley Campus - 3,844 Students
Universal Technical Institute of Northern California Inc - 2,257 Students

Sacramento - Stockton tourist attractions
ARCO Arena, Sacramento, California
Sacramento Zoo - Sacramento, California - large zoo with over 600 animals
California State Railroad Museum in Sacramento More than Just Trains
Fairytale Town in Sacramento, California a Child's Delight
Sheraton Grand Sacramento Hotel in California is a Historic City Gem
Arden Fair in Sacramento, California is an Over-the-Top Shopping Experience
La Rivage Hotel in Sacramento, California Offers Luxury on the River

Sacramento - Stockton Neighborhoods
Airport neighborhood
Alhambra Triangle neighborhood
Alkali Flats neighborhood
American River Parkway neighborhood
Arden Fair neighborhood
Ben Ali neighborhood
Brentwood neighborhood
Cal Expo neighborhood
Campus Commons neighborhood
Cannon Industrial Park neighborhood
Carleton Tract neighborhood
Central Oak Park neighborhood
Colonial Heights neighborhood
Colonial Village neighborhood
Curtis Park neighborhood
Del Paso Heights neighborhood
Del Paso Park neighborhood
Dos Rios Triangle neighborhood
Downtown neighborhood
East Del Paso Heights neighborhood
East Sacramento neighborhood
Erikson Industrial Park neighborhood
Fairgrounds neighborhood
Florin Fruitridge Industrial Park neighborhood
Freeport Manor neighborhood
Fruitridge Manor neighborhood
Gardenland neighborhood
Glen Elder neighborhood
Glenwood Meadows neighborhood
Golf Course Terrace neighborhood
Granite Regional Park neighborhood
Hansen Park Golf Course Site neighborhood
Hollywood Park neighborhood
Johnson Business Park neighborhood
Johnson Heights neighborhood
Land Park neighborhood
Lawrence Park neighborhood
Little Pocket neighborhood
Mangen Park neighborhood
Mansion Flats neighborhood
Meadowview neighborhood
Med Center neighborhood
Newton Booth neighborhood
Noralto neighborhood
North City Farms neighborhood
North Oak Park neighborhood
Northgate neighborhood
Northpointe neighborhood
Norwood Tech neighborhood
Oak Knoll neighborhood
Old North Sacramento neighborhood
Packard Bell neighborhood
Pocket neighborhood
Point West neighborhood
Raley Industrial Park neighborhood
Richards (Southern Pacific) neighborhood
Richmond Grove neighborhood
River Park neighborhood
Robla neighborhood
Sacramento City College (SCC) neighborhood
Sierra Oaks neighborhood
South City Farms neighborhood
South East neighborhood
South Hagginwood neighborhood
South Land Park neighborhood
South Natomas neighborhood
South Oak Park neighborhood
Southside Park neighborhood
Strawberry Manor neighborhood
Swanston Estates neighborhood
Tahoe Park neighborhood
Tahoe Park East neighborhood
Tahoe Park South neighborhood
Tallac Village neighborhood
Upper Land Park neighborhood
Village Green neighborhood
West Del Paso Heights neighborhood
West Tahoe Park neighborhood
Wills Acres neighborhood
Woodbine neighborhood
Woodlake neighborhood
Z'berg Park neighborhood

Sacramento - Stockton Religions
Sacramento Catholic Church Population is 50%
Sacramento Assemblies of God population is 6%
Sacramento LDS (Mormon) Church population is 7%
Sacramento other population is 38%

Sacramento - Stockton Government
The city of Sacramento government is council-manager form of government. The mayor is selected by citywide vote. The council is comprised a mayor elected at large, and eight council members voted by district. These members are independently nominated Mayor Serves a four - year term and are a member of the City Council. In the state legislature Sacramento is placed in the 6th Senate District, represented by Democrat Darrell Steinberg, and in the 5th, 9th, and 10th Assembly Districts, represented by Democrats Richard Pan, Roger Dickinson, and Alyson Huber, respectively. Residential areas, consequently, are still governed by a system intended for rural counties.
Sacramento - Stockton Economy
The Sacramento is situated on the convergence of the Sacramento River and the American River in the northern portion of California's liberal Central Valley. According to the United States Census Bureau, the city covers an area of 100. It is the California's seventh-largest city at the 2000 estimation. The city covers a land area of 96.3 sq mi. It has 486,488 populations in 2010 estimation. The city is situated at the coming together of the Sacramento River and the American River, and has a deep-water port linked to the San Francisco Bay by a waterway through the Sacramento River Delta. Sacramento has mild climate. The city has particularly low humidity and the cool ocean breezes. In the summer, though, "northers" gust from the Siskiyou Mountains, bearing pollens and heat and the winter seasons are rainy.
Sacramento - Stockton Geography
Now the city has generally based economy with tourism, transportation and industries. Sacramento is the transportation center for the core of California. The city government and transportations are the major sectors of employment in the area, and farming and mining although still important in the region have been surpassed by information, technology service, leisure and hospitality, education and health services, and construction. Sacramento's longest rising employment areas in the early 2000s comprise financial activities, specialized and business services, and education and health services. Most of the organizations work to attract and support businesses in the Sacramento area. The city has strong economy is reflected in the city's several recent development projects also.
Sublet.com is an apartment rental service that advertises apartments, sublets, subleases, roommates & houses for rent. Apartment rentals, sublets, subleases, roommates and potential renters have not been screened, verified or evaluated. Individuals utilizing this rental service to find apartments, sublets, subleases, roommates or tenants take full responsibility for their actions & understand that the owners of the site take no responsibility for any consequences of using this service

&copy Copyright Spyder Web Enterprises LLC, 1999 to present. All rights reserved.