Northern California Information


Northern California is located in the north part of California. Northern California has Sierra Nevada, Yosemite Valley, Mount Shasta, some part of the Central Valley and Redwood forests. The city also has one of the 11 mega regions of United States. One of the world's much productive agricultural areas are in this city. East part of the city has Lake Tahoe -Reno region. Native Americans were coming to the city as early as 8,000 to 5,000 BC. In the early 16th to mid-18th centuries European researchers are coming to Northern California.
Northern California Rentals by Area More Cities
Northern California Information by Area More Cities
Butte County Information
Chico Information
Colusa County Information
Del Norte County Information
Eureka Information
Glenn County Information
Humboldt County Information
Lake County Information
Lassen County Information
Mendocino County Information
Modoc County Information
Nevada County Information
Paradise Information
Plumas County Information
Redding Information
Shasta County Information
Sierra County Information
Siskiyou County Information
Tehama County Information
Trinity County Information
Yuba City Information
Northern California Demographics
Northern California City Population is 14,573,900

Northern California Education
Northern California City has number of world famous universities and top grade public graduate schools. The Stanford University, University of California and Berkeley are in Northern California. There are number of local community colleges and law schools, top-ranked medical school, UC Davis School of Veterinary Medicine are in Northern California.
Northern California History
English explorer Sir Francis Drake was visited Northern California in 1579 and claimed the area for England. In the year of 1841 the American settlers were coming to Northern California. The Mexican-American War began on May 13, 1846 for word to get California, it took approximately two months. Americans seized Mexican Garrison Sonoma in June of the same year. The Mexican-American War ending treaty was signed on February 2, 1848, and Mexico formally ceded Alta California (including Northern California) to the United States. Gold was discovered at Sutter's Mill in Coloma, in January 24, 1848. Because of the Gold Rush, 3 lakhs people coming to California from rest of the United States and abroad. After Gold Rush, Northern California is developed economically especially in agriculture.
Northern California Flag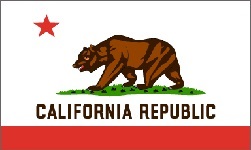 Northern California Colleges and Universities
University of California - Berkeley, Berkeley, CA - 35,800 Students
American River College, Sacramento, CA - 35,400 Students
City College of San Francisco, San Francisco, CA - 32,950 Students
San Jose State University, San Jose, CA - 31,200 Students
University of California - Davis, Davis, CA - 31,200 Students
San Francisco State University, San Francisco, CA - 30,400 Students
California State University - Sacramento, Sacramento, CA - 29,250 Students
Sacramento City College, Sacramento, CA - 27,170 Students
Santa Rosa Junior College, Santa Rosa, CA - 25,900 Students
De Anza College, Cupertino, CA - 25,190 Students
Diablo Valley College, Pleasant Hill, CA - 21,950 Students
Sierra College, Rocklin, CA - 20,700 Students
San Joaquin Delta College, Stockton, CA - 20,200 Students
Stanford University, Stanford, CA - 18,50o Students
Modesto Junior College, Modesto, CA - 18,400 Students
Foothill College, Los Altos Hills, CA - 18,300 Students
California State University - Chico, Chico, CA - 16,900 Students
University of California - Santa Cruz, Santa Cruz, CA - 16,800 Students
Cabrillo College, Aptos, CA - 15,900 Students
Cosumnes River College, Sacramento, CA - 15,950 Students

Northern California Parks
Ahjumawi Lava Springs State Park
Ash Creek State Wildlife Area
Azalea State Reserve
Biscar State Wildlife Area
Boggs Mountain State Forest
Boundary National Recreation Trail
Castle Crags State Park
Castle Rock National Wildlife Refuge
Clear Creek National Recreation Trail
Clear Lake State Park
Clear Lake State Park Visitor Center
Colusa National Wildlife Refuge
Crane Mountain National Recreation Trail
Crystal Lake State Fish Hatchery
Del Norte Coast Redwoods State Park
Dimmick Memorial Grove State Park
Ellen Pickett State Forest
Grizzly Creek Redwoods State Park
Hendy Woods State Park
Honey Lake State Wildlife Area
Humboldt Bay National Wildlife Refuge
Humboldt Lagoons State Park
Humboldt Redwoods State Park
Ides Cove National Recreation Trail
Jackson State Forest
Jedediah Smith Redwoods State Park
Klamath National Forest
Klamath National Forest Supervisor Headquarters
Lassen National Forest
Lassen Volcanic National Park
Latour Demonstration State Forest
MacKerricher State Park
Mailliard Redwoods State Reserve
Manchester Beach State Park
McArthur-Burney Falls Memorial State Park
Mendocino Headlands State Park
Navarro River Redwoods State Park
Patricks Point State Park
Plumas Eureka State Park
Plumas National Forest
Prairie Creek Redwoods State Park
Redwood National Park
Richardson Grove State Park
Russian Gulch State Park
Shasta National Forest
Sinkyone Wilderness State Park
Tahoe National Forest
Trinity National Forest
Van Damme State Park

Northern California Geography
The central part of the Northern California is Central Valley; east side of the city was snow-capped Sierra Nevada Mountains and Sandy beaches of the rough Pacific coast. One of the world's much productive agricultural areas are in this region. Yosemite Valley, glacially-carved domes, Sequoia National Park, giant sequoia trees, Mount Whitney, redwood trees, dot the coastline, the tallest living things on Earth are in this region. Lake Shasta, located between the Sacramento Valley and Mount Shasta, it was created by the construction of Shasta Dam across the Sacramento River, which was finished in 1945. The city of Northern California has warm climate along the coast.
Northern California Economy
Northern California economic industries are the world known industries. Those industries are software, semiconductor, clean power, biomedical, government and finance. Some more fields are to impact Northern California's economy; they are tourism, shipping, manufacturing, and agriculture industries. This Northern California economy is the different economy and it is less depending on oil and residential housing.

Northern California Information Sources

Sublet.com is an apartment rental service that advertises apartments, sublets, subleases, roommates & houses for rent. Apartment rentals, sublets, subleases, roommates and potential renters have not been screened, verified or evaluated. Individuals utilizing this rental service to find apartments, sublets, subleases, roommates or tenants take full responsibility for their actions & understand that the owners of the site take no responsibility for any consequences of using this service

&copy Copyright Spyder Web Enterprises LLC, 1999 to present. All rights reserved.